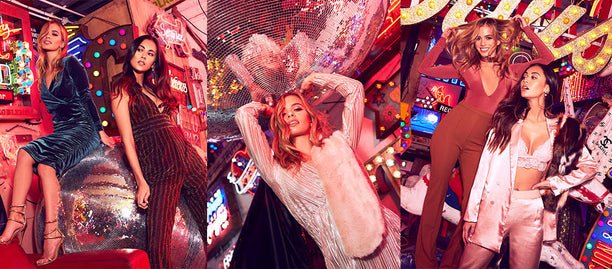 Hey party girl..needing some disco-inspo for the much anticipated festive period? Look no further, we have 101 reasons to make it Vegas every where you are with our latest ALL OF THE LIGHTS drop.
Se-Queen
Nothing says party season quite like looking like a disco ball, and sequins can help with just that. From head to toe excellence, to statement skirts and behold... the bold blazer. Shake it in sequins to be the (slut drop) star of any Christmas party.
LBD-efintely!
Christmas do? We got you. Why not keep it old school and opt for a little back dress. Mix it up with cut out detail or eyelit OMG. And is there any limit on how little? We say no - get leggy, girls!
Get Extra in Texture
This year we have seen velvet revival x 100 and we are diving straight in and star fishing - especially when it comes in pink! Add luxury to any look with EXTRA textures like shine bright satin and pleated metallic medleys. Experiment with fur to really shake things up, cocktail queen! You'll be feeling all types of way.