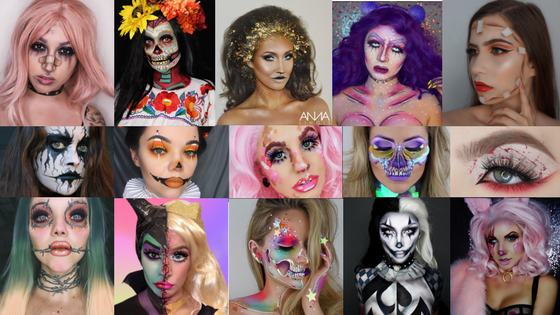 Halloween Make Up: Tips & Tricks From The Professionals
With Halloween right around the corner, it's officially time to get our spook on. Whether you have your outfit planned or you're still looking for inspiration, you NEED to check out these makeup artists, for their tips, pics and gory bits!
We found some of the best Halloween MUA's and asked them to share a spooky make up tip to give us some guidance, along with one of their amazing looks for some serious #HALLOWEENGOALS.
From holographic skulls to Pennywise the Clown (how could we miss IT out?!), there's a look in here to inspire every gal!
Vanessa's Instagram is full of some of the most amazing skull looks around. We're talking holographic embellishments, sparkling gems and lots and lots of glitter! Just one peek on Vanessa's Instagram and you will want to be a 24/7 sparkling skull. With this look being one of the most popular for 2017, Vanessa is the go to gal for #SKULLSPIRATION this year.
Vanessa's Halloween tip: "To create an easy Halloween costume is to create a skull look by researching anatomical drawings on Pinterest and use amigo liner, black eyeshadow, white eyeshadow and glitter or flat back crystals for a really punchy effect. Team the look with skinny jeans, a black top and a leather jacket for a unisex look!"
Check out Vanessa's Facebook for more pictures, videos and exclusive content!
Lauren works the sexy Halloween look down to a T. I mean seriously, she still looks hot as a female Pennywise! Even if it's just a subtle lip or eye look, Lauren covers it all, from her Joker inspired eye makeup to her Hellraiser lips, you need to check these out!
Lauren's Halloween tip: "My biggest tip for achieving a good makeup look would be to sketch out your idea on a blank face chart first. Once you've perfected it on paper, it'll be much easier to apply!"
Check out Lauren's Instagram for more hot Halloween looks!
Aisha's use of colour, latex and trypophobic, is a weird but wonderful world of beauty, gore and greatness! You're sure to find inspiration from Aisha, whether gorgeous or gory!
Aisha's Halloween tip: "Liquid Latex is a really cheap and quick way to create a cool, creepy Halloween look! It works great for anyone starting out or wanting to experiment! And the second tip is make SFX blood your best friend, put it all over for that little bit of added gore!"
Check out Aisha's Instagram for more Halloween inspo!
Anna is make-up artist to the stars, from the ladies of TOWIE to Little Mix, you've probably seen Anna's incredible looks before. Her glamourous Halloween looks are glitter and glam heavy, while her more ghoulish looks are sassy yet spooky.
Anna's Halloween tip: "So a fun little tip would be to mix glitter into fake blood to give your look some extra sparkle and glam. I recommend the Face Painting Shop's own brand of chunky glitter."
Check out what the celebrities are styling this Halloween on Anna's Instagram!
Eva is the queen of the split face style (see below!) and her Instagram is a bed of quirky inspiration! Of course there's the classic Halloween looks, skeletons, witches and clowns, but Eva also has unique and totally awesome ideas, check out her Shrek look below!
Eva's Halloween tip: "With any spooky look, the key is to take your time with it, if possible! If all else fails, just add blood!"
To see more amazing, quirky looks and tutorials head to Eva's YouTube!
Ellie is only 19 and her talent is MAD GOOD. Ellie's designs are so detailed, colourful and realistic, she makes us want it to be Halloween EVERYDAY! Her use of contacts is also a major thing to note this Halloween, as they provide such an effortless spooky look even before you apply any makeup!
Ellie's Halloween tip: "For beginners, contouring with weird colours can be slightly strange. I'd suggest always contouring first with similar colours and shades. So for a purple face paint I would start with a white base, then contour with pink, then a purple, then blue, then black, making a gradient with all the colours like you would in an eye makeup. This will add a lot of depth to your look! Also, if you're looking to take your looks to the next level or really want to make your look eye-catching, I would suggest getting coloured contacts!"
Check out more of Ellie's crazy looks on her Instagram!
Dehsarae's Insta is full of goals. From Halloween goals to mother & daughter goals, this gal has it all! Not only does she do amazing looks on herself, including neon clowns, spider queen and evil Ronald McDonald (to name a few!), she also styles her daughter and herself as amazing duos, and also her daughter as icons such as Prince and Frida Kahlo (AMAZING.) You just HAVE to check it out.
Dehsarae's Halloween tip: "Don't kill your wallet trying to buy expensive makeup products, use what you already have at home and make it work... Change the color of your foundation by adding your favorite eyeshadow or pigment!"
Check out Dehsara's Youtube for more tips and tutorial!
If you want low key but effective, Abby Roberts Instagram is the place to go. Her eye and lip looks are so effective but more low key than some of the other liquid latex, super SFX styles. They are super detailed so checking out her YouTube for tutorials is a must for any beginner! Team one of Abby's looks with a faux leather skirt and a Halloween bodysuit for super spooky cool girl appeal.
Abby's Halloween tip: "To create a blood splatter effect; apply red face paint or eyeliner (here I used NYX Cosmetics Vivid Brights Eyeliner in 'Vivid Fire') to a stiff brush and pull back the brush, away from the face and release to flick paint splatters on to the desired area."
Check out Abby's YouTube for both Halloween and day to day beauty tutorials!
Corie's bodypainting is out of this world, literally. Her use of colour, wigs and rhinestones is one to be admired and one we can take some serious Halloween inspo from. If you have the time to put some work into your Halloween look, then Corie's are ones to try and replicate!
Corie's Halloween Tip: To apply rhinestones or glitter, I typically use liquid latex such as Mehron Makeup's latex. I apply it to my skin first, let it dry for a second until it's tacky but not totally dry, then I apply the rhinestone. If you use good liquid latex, you can even reuse the jewels by just peeling the latex off of the stones! Swarovski or glass crystals give the most bling but they are a bit pricier, but you can still get tons of sparkle with plastic rhinestones, I get all of mine through craft stores!
Check out Corie's Facebook for more full torso looks and exclusive videos!
Monica's Instagram is a total Halloween treat, from her effective use of fake blood and wigs to her more intricate use of colour and detail, there's something here for every ability and style! Her amazing make-up skills, both Halloween and day to day, along with her use of contacts, wigs and props, makes for an Instagram we could scroll through all day!
Monica's Halloween Tip: "Here's how to cover up your brows, either to create a more dramatic brow or hide yours completely! Using a glue stick, apply over natural brows. Make sure to apply in an upwards motion to try to get the hair to lay as flat as possible. Let dry and apply as many layers as needed, allowing each layer to dry before applying another. Once the glue is completely dry, set with a loose powder - making sure to use patting motions into the skin. Swipe away excess powder with a fluffy brush and apply concealer or foundation over the area, blend out, and watch your brows disappear!"
Check out Monica's YouTube for more top tips and tutorials!
With a specific interest in all things SFX, Rani keep things gory, gruesome but great! If you're more of a Cady Haron than a Regina George, and prefer to keep things scary this Halloween then Rani's Instagram is the place to be. Her use of liquid latex, fake blood and gore is one to be reckoned with! On top of gory cuts, she also creates creepy squid hands and other weird yet wonderful hand make ups. This Instagram isn't for the faint hearted, so proceed with caution!
Rani's Halloween Tip: "Don't overdo the fake blood. Lots of blood can work great with some looks. But a lot of the time it hides all the detail you've put into it. Less is more!"
If you want to get gory this Halloween check out Rani's YouTube for some great tutorials!
For some spooky style inspiration check out our collection here.