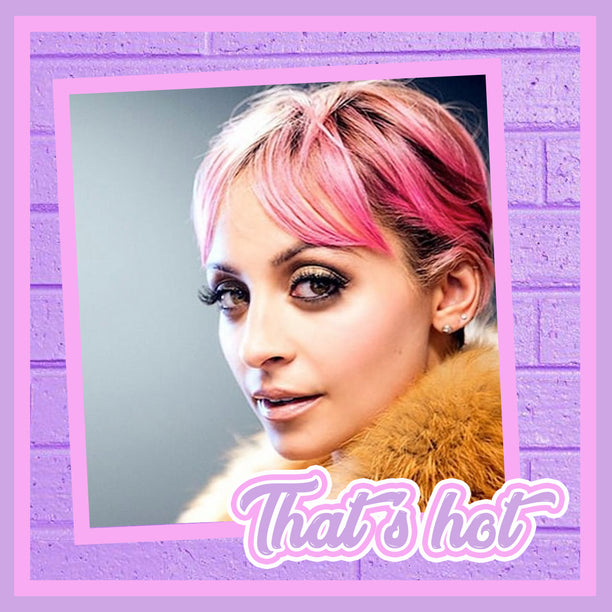 HAPPY BIRTHDAY NICOLE RICHIE
Let's face it, Nicole Richie is the queen of one liners. And as it is her birthday (Happy Birthday Nic Rich!), it got us thinking – is there really a better time to run through our fave moments of all time? We think not. Drum roll please...
THAT ONE'S CUTE. YOU'RE NOT IN IT.
The modern day heartbreak. You're heading on a night out with your gal pals and of course, set time aside to take some selfies. ALAS! There's one you like, but your bestie doesn't do you post it? HELL YEAH YOU DO! 'Cos girl you know she would post the one where you've got your eyes closed. We're all for female empowerment, but sometimes you gotta do what you've gotta do for them likes.
BLESS OUR MAKE-UP, OUR FAKE EYELASHES AND OUR LIP LINER.
Beauty isn't just skin deep, but sometimes these babies help us get through ANYTHING. We've all had one of those days where we're just not feeling ourselves and we have every foot to kiss for these beauty faves that take us from 0 to 100, real quick. Stay armed, ladies - with lipstick!
I LOVE TO SLEEP. LIKE, I LOVE TO SLEEP SO MUCH THAT I WAKE UP EXHAUSTED FROM SLEEPING SO HARD.
Is there ever a day 'one' does not complain about being tired? Whether we've been partying till the AM or having an early PM (and slept both off) we cannot escape the yawns. Nicole, we can relate boo. And don't ask us to make plans at the weekend, 'cos we be sleeping.
WHO ARE YOU TEXTING AND HOW MANY EMOJIS ARE YOU SENDING?
We've all got that friend who's being messed around by that f**k boy we're hating on. So of course we want to know everything... what they're saying (don't be flirty and definitely play hard to get), how long they're taking to reply (don't be keen, leave it a couple of hours) and what emojis they're sending (never use the heart eyes, be tempted to use the no access one, babe). We're here for all other relationship advice, FYI.
GIVE ME SOLANGE IN AN ELEVATOR
We're all our girlfriend's biggest fans - especially when we're capturing their photo to go on Instagram. And we expect them to do the same. Take it from a below angle, take it from a high angle, use the flash, don't use the flash, give us some direction - especially if it's Solange Knowles related!
I MEAN IF YOU'RE NOT EVEN GOING TO PAY ATTENTION TO ME WHAT'S THE POINT OF BEING HERE?
It's your time of the month, you're eating your body weight in ice cream and feeling needy AF. All you want is cuddles, carbs and Netflix's but your man just isn't getting it. Gimme attention NOW!
I WEAR GLASSES. I KNOW EVERYTHING.
Did you not know glasses automatically make you clever? DUH. Going to an interview under prepped, running late and still hungover? Then stick on some glasses and wing it gal! I mean, you look great AND clever surely the rest will follow? Right?!
I DON'T WANNA MAKE ANY NEW FRIENDS.
You know the situation... you've been minding your own business (and your own germs) on public transport, listening to your music in the corner. You've got to the next stop and someone comes to sit next to you although there are plenty of seats and all you can think is: I don't wanna make new friends :(
Missy Empire
XX