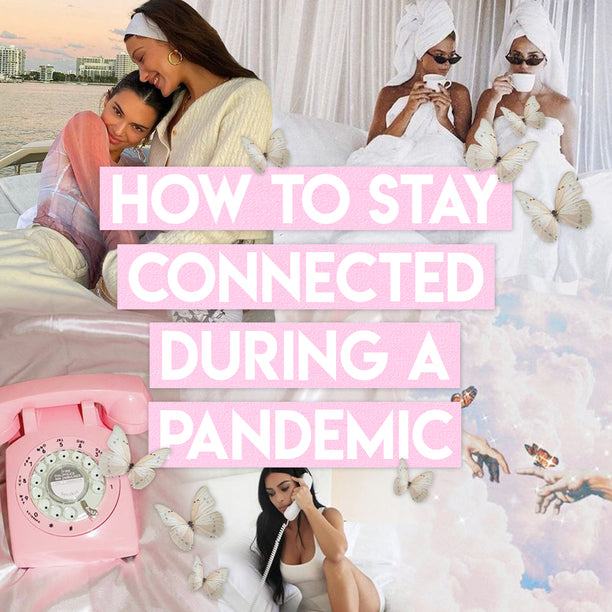 HOW TO STAY CONNECTED DURING LOCKDOWN
So lockdown 3.0 is in full swing and if there is one thing for defo, it has not passed the vibe check so far. Whilst we're all for indulging in some extended me time after Xmas, we wouldn't blame you for craving a little girl time. So, if like us you find yourself needing to reconnect with both ourselves and our loved ones, here is the 411 on how to make it happen.
Online Group Exercise Classes
Let's be real babe - new year, new me is hard enough without having a global pandemic thrown into the mix as well. However, the closure of gyms doesn't mean we can't still build that peach like we have been planning since last September. The show must go on babe! So whether you're attempting a group zen-out by trying your hand at yoga or getting pumped the F up with a HIIT class, do it with your gals over zoom. Whether you need a little extra motivation for those last reps or you simply just want to discuss your latest Netflix finds, your gym buddies are only one green button away babe!
Zoom Your Lunch Hour
Sometimes all a girl needs is a good goss and a few belly laughs right? Just because we are cooped up in our houses working, doesn't mean we have to go without our work besties. Lunch breaks in the office are where unbreakable bonds are made and those cba days are made bearable. You laugh together, cry together, share snacks together. And don't get us started on the secrets! So since you have to break to eat anyway, why not call the girls?
Post Some Care Packages
News flash, January is sh*t. And a third lockdown is absolutely not ideal for making things any better. But the good news is, there are easy things you can do to help the situation. You know that warm fuzzy feeling you get when your parcel arrives yea? Well just think of how much it hits different when it's something you weren't expecting. Put together some little care packages for your gals to let them know you're there. We're thinking some cute PJ's (Missy has options from just £5), some lush beauty bits and a cosy pair of socks will defo put a smile on their face.
Go On A Social Media Cleanse
Now this might sound like a strange one at first, but bare with us babe. Right now it will seem like there's not much else to do but social media. But whilst we're all for the scroll, it is only recommended in small doses and lockdown presents be the perfect opportunity to over do it. Set yourself strict time limits on how long you go on social media each day, and spend your other free time trying something new. Or if you're feeling really brave, just delete it completely. Sometimes you've gotta disconnect to reconnect gal!
So now that you've taken a min to find out how to tackle lockdown loneliness, we wanted to stress the importance of reaching out if you are struggling. You are never alone babe. Whether it's friends, family, chatlines or on social media - there is always someone ready and waiting to listen to whatever is on your mind. Better days are coming, we just have to stick out a little longer. We've got this!