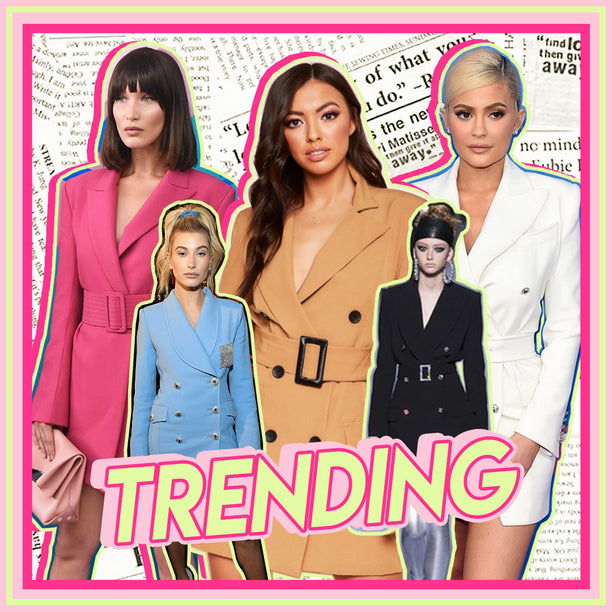 TRENDING: BABIN' BLAZER DRESSES
Girl, it's time to get #trending in our blazer dresses honey and give it your own kinda vibe! We've seen so many celebs and bloggers coming through in the blazer dress trend so we think it's time for you to get on it gal. If you're a subtle bae who likes a classic black or white look - we've got you. If you wanna add some colour then we've got pink to make the boys wink – we've got you too. Whatever you're style, do it your way bae!
HENA HOT PINK
Oooo girl, got a thing for hot pink? So do we, so get boujee in our Hena Hot Pink Belted Blazer Dress and you'll be all day slaying. Style up with our Silver Glitter Square Strap Heels, Silver Large Twisted Hoop Earrings and our Lindsay Silver Chain Drop Choker and you're ready to go out out babe. Go hot pink or go home, right?!
LEANDRA CAMEL
It's a blogger fave babe! Get those nude tones on lockdown in our Leandra Camel Belted Blazer Dress and look hella hot from day to night. Pair with our Benita Black Snake Print Boots and our Hillary Black Faux Leather Croc Print Bag and you'll be bossin' it from the office to the dancefloor!
HEIDY
Level up, level up! Our Heidy Silver Stitch Detail Blazer Dress is the ultimate party girl vibe. Bring that sassy and classy look and style with our Sasha Silver Black Strap Heels and our Indigo Silver Diamante Cross Earrings. Pour it up, pour it up whether you're date night dining or girls night outing - this look can do both, babe.
CARLY
Steal the show in our Carly Mustard Tuxedo Mini Dress and you'll be feelin' like a VIP wherever you go. Occasion-where? This is THE outfit! Style with our Rita Nude Perspex Pointed Heels and our Jodie Gold Small Coin Pendant Necklace to finish off this look babe. Get it honey!
HENA WHITE
White party ready. Our Hena White Belted Blazer Dress is sophisticated yet sassy for all you huns craving that crisp white dress. Because its say's you mean business, but you've also got style, girl! Pair with our Raven Silver Black Diamante Belt and our Dolly White Diamante Mule Heels to finish this look off with a bang!
LEANDRA BLACK
It's a classic! Every girl needs a LBD in their life, so why not get that little black blazer (dress) and kill it in our Leandra Black Belted Blazer Dress. It screams Kimi Kardashian vibes and we think you NEED this in your wardrobe. Style with our Marnie Black Snake Print Over The Knee Boots and our Felicia Black Quilted Snake Clutch Bag. Come through drippin' in attitude!
MISSY EMPIRE
XX