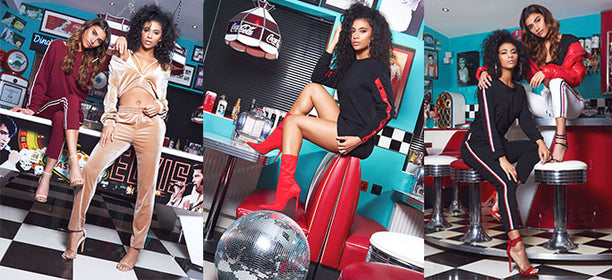 Why We Can't Get Enough Of Loungewear RN.
Girl, we know you've had a super busy December. Non-stop partying, present shopping and consuming your entire body weight in food? We got you.
We've claimed January as our chill month so we're giving you permission to wear as much loungewear as your bank balance will allow you (yep, you heard us.) Whether you're a sports luxe kinda babe or just love to netflix and chill, we're covering all of your needs this month, girl. ALL of them. Here are our top 7 reasons why we just can't get enough of loungewear RN. And we're pretty sure, neither will you...
1. Dress up while you're dressing down 'cause loungewear has never looked hotter
Throw on a pair of heels for that BABE factor and you're gonna look like you've put 10x more effort in than you actually did. Chances are, you CBA 'cause it's January but you still look hot af. Goals right there.
2. EVERYONE and their mums and their dogs are on the loungewear hype
Don't be late to the game girl. Go hard or go home because loungewear isn't going anywhere. Here's how to do loungewear chic like Kimmy K or slay like the Hadid's and level up your supermodel status.
3. Date night - You're going for date night with bae but you want to stay super comfy as well as looking fire? Style it up with a mesh crop for some sass appeal. Accessorise with statement earrings and killer heels and you're good to go get him, girl.
4. New Year New Me - Not about the heels life? Ditch the glam and grab your trainers 'cause if anything can multi-task, it's loungewear. You're trying to get rid of all the Lindt chocolate you consumed over Christmas or the Yorkshire puds that you couldn't resist? It was all worth it and you know it! Loungewear is your new bestie if you're on the fitness hype.
5. Drinks with the Girls - The girls have just called and you're going for a drink, or two, or three... Work your loungewear with a bralet or opt for an off the shoulder number to add some shoulder sass. No-one will ever know that you've just been chillin' all day.
6. Sale Shopping - Ready to brave the cold and head out into the sales? We know exactly what you need. Go match-matchy in your Stella Striped Set - minimal effort needed. Just grab a puffer and a pair of fierce boots and you'll be stopping traffic.
7. For Netflix and Chillin' in - It's a Sunday, Netflix keeps asking if you're still watching and you don't plan on leaving the sofa anytime soon? Loungewear got your back.
Is there any event loungewear can't cover? (Nelly Furtado voice) nope, didn't think so!