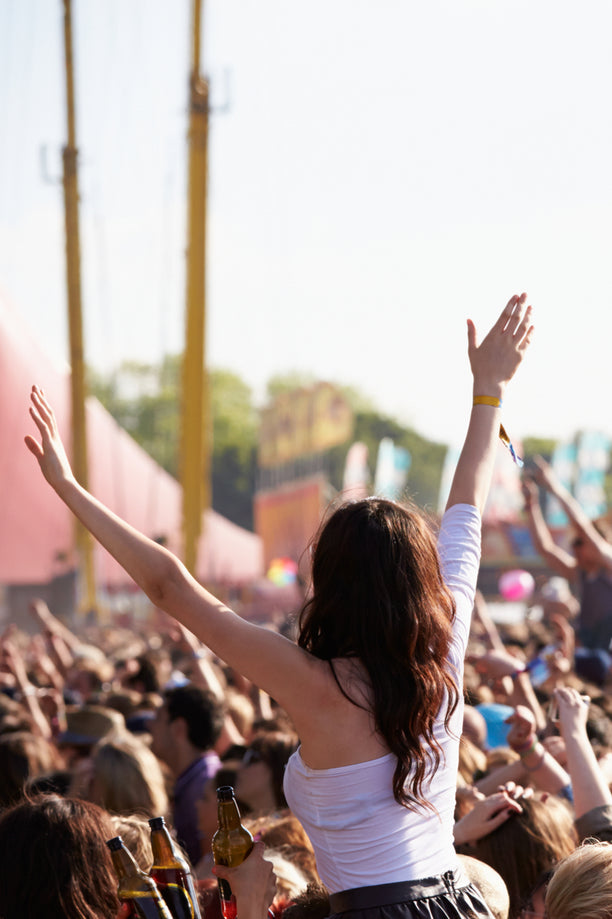 17 Fashion Bloggers Share Their Summer Festival Fashion Tips
Festival season is officially here! Besides getting hyped to see your favourite bands and enjoy some time chilling out with your friends in a field for a few days, it's also time to start planning your festival outfits!
Festival fashion is, in our opinion, one of the most exciting things about summer, so we reached out to our favourite fashion blogger gals for their top festival fashion tip for this summer!
Erica Vonderwall
Dress comfortably. Whoever it was that said you should suffer for fashion has clearly never been to a UK festival. Comfy shoes for standing all day/wading through mud and weather-appropriate clothes have never been more necessary than at an all-day or weekend-long festival. Things to consider: how will you use the Portaloos in a jumpsuit? How will you stay warm in a crop top? How will mud look on your floral shorts? Think, ladies, think.
Rebekah McDermott
I think my festival fashion tip would be to rock a stylish backpack! Not only is it very practical, it's comfortable and it's also a wicked fashion statement. It looks chic and you can fit all your essentials in there like your lippie, cash, a water bottle, hairbrush (which is a must have during the summer heat!) face powder for touch ups etc.
Flora Law
My tip would be to bring multiple pairs of sunglasses. Music festivals are the perfect time for fun & quirky sunglasses. Pack a couple different pairs since they're small and don't take up a lot of room. Different shapes and styles of sunglasses can change your whole look.
Brogan West
Always wear a comfy shoe... but it still has to be cute :) i.e. Pointed Chelsea boho style boot, a strappy sandal or a flatform.
Always make sure to pack a poncho for any rainy moments, as you need to always keep your hair and makeup on point.
A cute statement rucksack is a must as they are really on trend this year and they easily hold all your girly bits and pieces and makeup essentials.
Layer your accessories, as festivals are the only time you can go OTT with your details. The more face jewels, glitter and hair braids the better!
Carolina Lindo
A cute backpack and oversized sunglasses are musts for summer festivals!
Melissa Harris
Bumbags are a necessity! When it comes to festivals - anything goes. I remember being little and thinking bumbags were seriously uncool...oh how that has changed. Not only do they free up your hands so that you can jump around like a crazy person (or more importantly, it allows you to hold two drinks at the same), but they also mean that your phone can be within reaching distance, therefore maximising your ability to get that perfect snap for Instagram!
Maysoon Bastoni
I think my tip would be finding these two key accessories that could work with anything and everything; first: a belt that you could layer with any crochet or satin summer dress, for example, which you could also wear with any shorts. Also, finding coloured statement earrings that will jazz up any plain outfit, to me those two items are summer staples!
Elizabeth Strecher
My biggest summer fashion advice (for festivals and everything else) is the classic "less is more" tip. I think that simplicity is the most effortless when the weather is so hot. Less with the clothes, lighter with the makeup, and natural with the hair. I don't like feeling "heavy" during the summertime, and I don't want any fuss when I'm enjoying a festival.
Amy Neville
A big error I first made when I started going to festivals was the big focus on the day-time attire and fully forgetting that as the sun goes down and the moon comes out, it does get a bit chilly!
Something I have learnt is bringing the perfect jacket is pivotal to enjoying both the day and night at your festival of choice... I would always recommend going for something light that you don't mind carrying around, but thick enough to keep you warm and cosy.
A bomber jacket can be the perfect solution. It's warmer than a denim jacket, but much more manageable than a leather one, so you can easily wrap it around your waist as a daytime accessory. There are so many options these days with a variety of colours so you can still go for that summer, festival look but have a bit of practicality too!
Jasmin Aleksandra Emilia
My tip would be to always stay comfy. You're going to be in the same outfit all day long, you're going to dance, jump around and eat and drink, all in the same clothes. So opting for a way too tight dress or uncomfortable shoes is NOT a good idea. A pair of jeans shorts and a crop top is, in my opinion, the perfect choice - comfy and super cute!
Molly Lee
Glitter and face jewels are a must have to complete any festival look! I think festivals are your chance to go all out and be really creative. You can never have enough glitter; it looks amazing with any outfit or accessory.
Sarah Jo Holder
My festival fashion tip would be "glitter, gold, glam, go all out". Unicorns weren't afraid to be different and nor should you!
Carmen Do
My festival tip would be to always bring a portable charger and eyelash glue haha! You can't lose out on precious memories you could be taking on your phone and you really don't want your eyelashes to be falling off (if you do wear eyelashes) when you're taking amazing festi-pics!
Robin Taylor
Always have some trusty denim shorts in your suitcase - they're the perfect item if you aren't really sure what to wear or are having a bit of an outfit meltdown. Pair with a slogan tee for that casual festival vibe!
Jacquie Alexander
My festival fashion tip is to always wear boots, you can dance and walk around without having to worry about people standing on you and they're easy to clean!
Samantha Lily
My number one fashion tip would be layer up! One thing to keep in mind, at a festival, is that at night it can get a bit chilly. An oversized denim jacket or plaid shirt will be your best friend - they are both thick enough to be warm and cosy during the night but also light enough to carry around with you during the day. Tie it round your waist and you have the perfect daytime accessory!
Chloe Plumstead
My top tip when it comes to festival dressing is always the same – comfortable footwear comes first! Function over style is the name of the game, even if it means have to succumb to less than pretty wellies just to save yourself from wet feet. Battered old trainers may not look as great as a pair of lace up sandals, but you'll thank yourself at the end of the night.