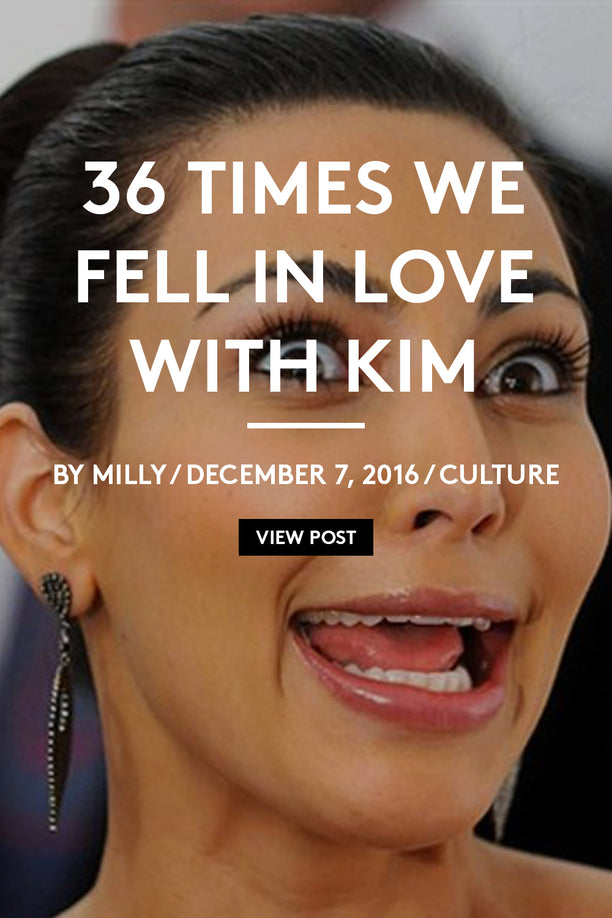 36 times we fell in love with Kim Kardashian
In honor of Kimmie turning 36 today, we're gonna tell you 36 times we fell in love with Mrs. West.
For making make-up her priority
2. For turning enemies into frenemies
3. For slaying the Halloween game
4. For knowing the best time to take a selfie
5. Speaking of selfies, there's a whole book of them - and we absolutely love it
6. For breaking the internet
7. For owning the sunburned look
8. For founding a production company and naming it "Kimsaprincess Productions"
9. For getting banned from the Met Gala in 2012 by Anna Wintour and then gracing the cover of American Vogue in 2014
10. For starting out by cleaning Paris Hilton's closet
11. She relates to the faces we pull on a daily basis
12. She's totally on our wave length
13. For providing us with countless meme's of her ugly crying face
14. When she said the best Louis Vuitton quote of all time
15. For being the BEST detective
16. For providing us with our favourite pass time
17. For trying (and failing miserably) to dress like Kylie
18. For speaking the truth
19. For doing a Karen from Mean Girls
20. For owning the red carpet
21. For calling Khloe an evil troll just because she woke her up - a girl after our own heart
22. For getting called fat when she was pregnant and then slayin' her post baby bod selfie
23. And just generally empowering others to own their bodies and be confident
24. For the infamous "my diamond earring came off in the ocean" scene
25. And for this scene too
26. For naming her children the raddest names
27. For encouraging North's love of fashion and letting her design her own clothes
28. For being as indecisive as us when it comes to choosing food
29. For hitting Khloe with her bag for ruining the moment she got her first Bentley
30. For slayin' the pool twerk
31. For being couple GOALS
32. For giving the best advice
33. For coming up with this perfect slogan
34. For her amazing chat up skills
35. THIS
36. For not taking any sh*t from f*ckboys
Kim - WE LOVE YOU! Don't ever change xoxo