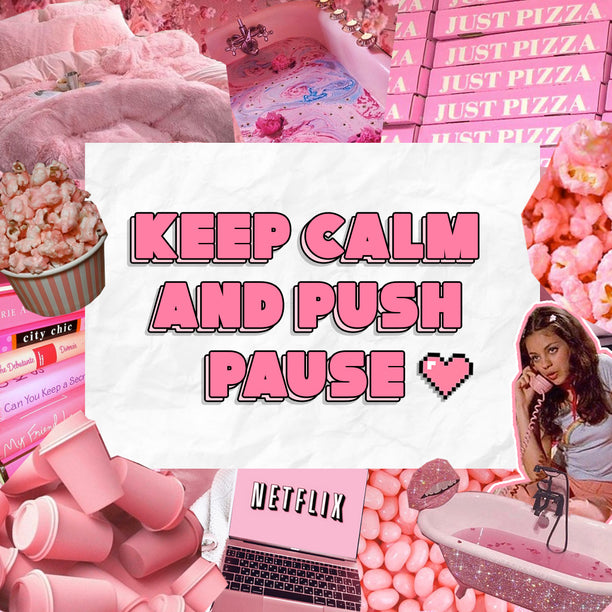 If you've been reading the news lately, then you'll be very familiar with what's going on in the world RN. But don't worry girl, we can get through this together. Whether you're social-distancing, self-isolating or are simply in need of some major positivity to bless your timeline, we have 9 easy tips on things you can do to remain positive during this difficult time.
Keep calm
We know keeping calm is easier said than done but seriously babe, this will pass! It is super important that you remember the power of positive thinking. Tip: check out our Pinterest board full of positive quotes and set one as your phone background to remind yourself to stay positive.
Make sure you take proper precautions by washing your hands regularly and don't forget to eat well. Load up on plenty of Vitamin C and make sure you get a full 8 hours of sleep because as we know, getting a good night's siesta is the key to feeling healthy! Stay woke gal!
[embed]https://giphy.com/gifs/keeping-up-with-the-kardashians-26vULbbOhi45zev9S[/embed]
Netflix and chill
Are you a chip and dip kinda gal? Can't say no ice cream and chocolate? Or maybe you're both, either way, kicking your feet up and binging a Netflix original with lots of snacks while social-distancing is a quick fire way to raise your spirits. If you're a mindless Netflix scroller with not a single idea of what to watch, we recommend Love Is Blind. This light-hearted, binge worthy show is guaranteed to give you all the positive vibes during this time. Thank us later.
[embed]https://giphy.com/gifs/theplatform-the-platform-andreaschoice-andrea-brooks-rO6GJ4J0mqmR2[/embed]
Indulge in self care
Self care is the best care and honestly, this is a must RN. With the current chaos in the world, it's easy to forget the simple things in life such as self care. So light a candle, put on some of your fave feel-good music, slip into something cosy like our Nathalie Beige Balloon Sleeve Knitted Cardigan and get that trustie face mask on. You won't regret it gal.
A spot of online shopping
What's better than shopping? Shopping in your cosies with your feet up and a duvet - that's what! Online shopping will become your bestie while social-distancing for sure. And don't worry, we've got all the style inspo needed to get you through. From fluffy sets to staying in sweats. Casual joggers to haute damn hoodies, we have you covered for all your relaxing needs.
Keep yourself busy
Do something which will give you a sense of achievement, or something that you can show to others such as a recipe you've always wanted to try. This will not only keep you busy but you can also show off your hard work on Instagram. Who knows, maybe you will inspire others to get creative? If you've finished all that and still find yourself panicking, try baking a cake or some cookies. It is the ultimate form of therapy and will definitely keep your mind busy!
[embed]https://giphy.com/gifs/filmeditor-clueless-movie-l1IY2rqRZ9QyY0Hug[/embed]
Organise your bedroom
Girl, for weeks you've been saying you're going to organise your bedroom. Well, now is the time. Organising your bedroom does wonders for your PMA (positive mental attitude) which let's face it, we need RN. If you're looking for a bit of organising inspo, hit up Mrs Hinch on Instagram and we promise you'll be entertained for hours!
Stimulate your mind
While you're chilling at home, it's very easy to become stuck in a cycle of watching movies, eating snacks and scrolling mindlessly through Instagram. Board games are the best way to help break you out of that cycle! They stimulate the mind, increase your PMA and honestly, who doesn't love a good board game?! So get your roomies together and indulge in a good game of monopoly to combat those isolation blues.
[embed]https://giphy.com/gifs/board-games-jJMjabAOv7seQ[/embed]
Facetime your gal pals
Let's be honest, there's nothing worse than not being able to kick back with your gals over bottomless brunch. But, health is wealth babe so here's the 411 on how you can get creative with your socialising while social-distancing. Facetiming with your bestie while you both online shop is the best way to keep yourself from going stir crazy. If you're wanting to keep up with all the gals at the same time but are restricted by Apple's one-at-a-time Facetime system then why not try Facebook video chat? This way you don't have to Facetime all your gals separately. Win Win!
[embed]https://giphy.com/gifs/vogue-cardi-b-73-questions-WsAj092w1pLEHJdQ7X[/embed]
Get some good vibes
While being at home in your joggers watching trash TV is undoubtedly good for the soul, too much of it is not exactly good for your physical health. To keep the blood and positivity flowing through your body and mind, try some at home exercises such as star jumps, squats, burpees and even yoga. Remember that exercise releases endorphins which will certainly make you stress less about social-distaincing.
Okay babe, now you have the low down on all of our tips and tricks on how to stay calm during this pandemic, you're more than ready to go full boss mode through it. Just remember to keep calm and stay positive. You got this girl!