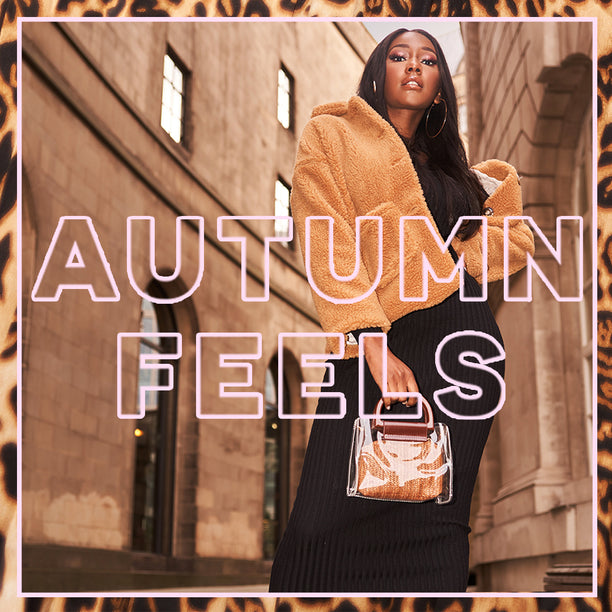 One good thing about A/W? The clothes. Say hello to dreamy winter coats, cosy AF jumpers and AH-MAZING ankle boots. It's loungewear season, and we're so ready to Netflix and chill with marshmallow hot chocolates all weekend long! Enjoy crisp walks in the cooler air? Why not wrap up in our knit jumpers, layer your looks with our boyfriend coats and swap your peep toe heels for some killer fuller footwear. Autumn, we're coming for ya!
Let's get vibey!
Autumn doesn't mean beige, covering up and falling into the lay all day trap! Get that drobe' looking LIT in our Amelie Mustard Dogtooth Oversized Batwing Crop Jumper and keep those bad vibes in check. Add some denim and layer the look with our Vanessa Mustard Distressed Denim Skirt and get that mustard game going strong!
This look ain't finished until you add those statement booties, so bring the POWER in our Stella Black Over The Knee Stiletto Sock Boot and shut down the club in our Suki Black Yellow Top Retro Sunglasses.
Suit up the sass!
Brown is making a comeback and it just got boujee! Lead the way in our Erica Brown Longline Belted Blazer with matching Andrea Brown High Waist Flare Trousers. Trust us girls, this suit is a best seller and you'll be #trending your way through life in it.
Add those statement accessories and bring the off duty feels in our Janessa Leopard Print Pointed Strappy Heels. Oh and girl, we can't forget that must have handbag - shop our for that cute replacement of your classic.
Daytime dreamin'!
This outfit is givin' us all the Autumn feels! Get boozy brunchin' and all day slaying in our Codie Mocha Cut Out Oversized Jumper and style it with our Annette Denim Light Wash Ripped Jeans because girl we're all in need of some new denim for the colder months.
Layer up your look with our Dacia Beige Longline Trench Coat as a trench coat is the perfect autumn player. Then add our FIRE Jemma Snake Print Stiletto Sock Boots, they will put your black boots to shame. If you're gonna do it, do it in style!
Chocolate craving!
Clothes good enough to eat? Not quite, but yo' gonna look like a snack in our Cami Chocolate Knit Ribbed Co-ord Set , it's our go to co-ord this season! Replace your basics with this co-ord and style it up or dress it down for your own kinda vibe.
Add those layers with our Maxine Chocolate Teddy Borg Longline Coat for that faux fur feel, come through drippin' (in chocolate)! Finish this must have style with our Perla Snake Print Boots for that mega babein' look.
All day slay!
Get it gal and glam up your graphic tees! Spread the love and slay all day long in our Levi Black Kissing Faces Graphic T-Shirt, abstract art just made it into your 'drobe! Get that look ready for dust till dawn and style with our Dana Leopard Print Pleated Skirt for a day to night vibe.
Update your booties babe and finish the look with our Tabitha Black Suede Stiletto Sock Boots. This look screams day dates, afternoon tea with your gals and day to night drinkin' – so zip up your boots and SASHAY that skirt because girl, you're going out!
Now to nudes!
Glow in our Amie Beige Chunky Knit Jumper Dress, its one basic every gal needs this season. No matter if you're freezing at a bonfire or drinking hot chocolate at the Christmas markets, this jumper dress is a MUST!
Get layering your look with our Han Camel Teddy Borg Longline Coat, and Shelby Leopard Print Chain Bag for ultimate cosy vibes.
MISSY EMPIRE
XX