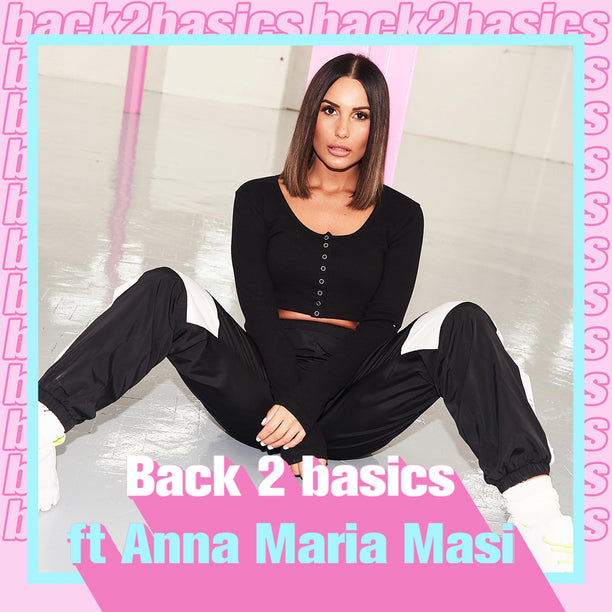 We're going back to basics baby and we're takin' you with us! Shop our cropped jumpers, basic joggers and oversized t-shirts and give your basics an update. We're getting that lay all day vibe and getting that chiller mode ON in our beige numbers, grey get ups, back to black classics and white favourites - whatever your vibe our basics are a staple for every girls drobe' so update yours and style them up!
THE MUST HAVE STAPLE
We are livin' for that matchy matchy vibe and simple never looked so bouji! So get that white party vibe in our Rosie White Basic Bralet and our Emma White High Waist Cycle Shorts then layer the look with our bestselling Nicole White Basic Slogan Oversized Shirt. Add our Holli Black Flip Flop Perspex Heels and our Joelle Silver Coin Layer Necklace to finish off the look, it isn't so basic now honey!
THE SASS BUILDER
Every gal needs a black dress in there drobe. So kill it in our Thea Black White Stripe Ribbed Midi Dress and get your brunchin' to boozin' attire hotter than ever. Style with our Kourtney Black Slogan Perspex Pointed Heels and our Molly Silver Half Hoop Earrings to finish the look. Get babein' from the restaurant to the club!
THE COOL GAL
Off duty vibes are here to stay in our Mila Black White Popper Joggers and our Iven Black Button Up Ribbed Crop Top. So style up this combo with our Patti White Neon Yellow Lace Chunky Trainers and our Zetta Neon Yellow Reflective Bum Bag. Add some neon feels and get your chiller mood on lock!
THE OVERSIZED FAVOURITE
Up your bae-sics game in our Ariana White Basic Slogan Oversized Sweatshirt and let the sweatshirt do the talkin'. Style with our Gia White Femme Slogan Socks, Peggy Black Perspex Strappy Heels and our Bailey Black Faux Leather Zip Bum Bag to get that day to slay vibe. Oversized is here to stay and we are livin' for comfort and cute!
THE OFF DUTY DAYTIMER
Keep it cas' in our Rebecca Sand Casual Joggers and add our not so basic Mya Cream Basic Slogan High Neck Top and get your wardrobe staples set for the season. Finish the look with our Kim Beige Mesh Panel Trainers and our Jo Brown Check Backpack. It's a complete mood!!
MISSY EMPIRE
XX