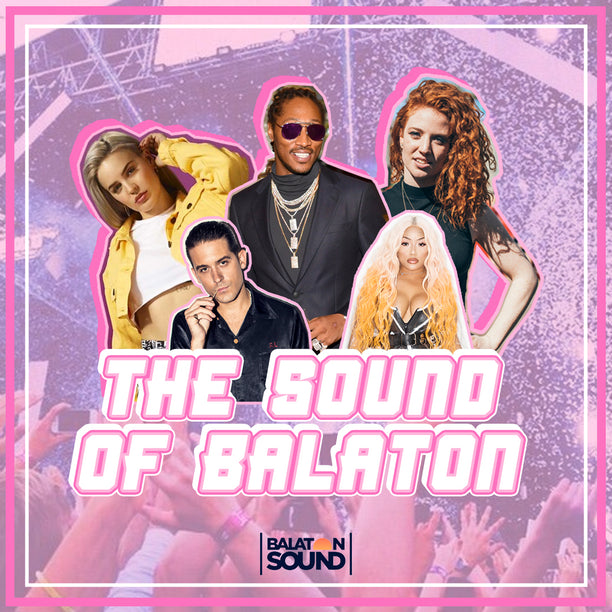 BALATON FESTIVAL X MISSY EMPIRE PLAYLIST
Festival season is upon us gals and we are bringing you the hottest playlist for your Summer of music and fun. We are working with Balaton festival to bring you the latest line up and the hottest playlist to make your Summer one to remember. So listen up gals and don't forget to grab your tickets for Balaton Sound here and bring this playlist to life honeys!
This song is channelling the UK rap scene and giving us all the chiller vibes. This is how the party starts... that chilled vibe, chatting and people arriving – it's your festival starter song.
If you're feelin' this then style our Macy Black Belted Cargo Co-ord Set and get those off duty vibes. Then lockdown the look with our Meesha Black Skinny Cat Eye Sunglasses and our Kathie Black Faux Leather Lace Up Zip Boots. Get the vibe!
This song is the one you've gotta turn up, it's about to get lit and you and your gals are livin' for this girl power influence. You know those hips are movin' no matter what!
This song is bringing the VOLUME to why not turn it up in our Jenna Neon Orange Long Sleeve Unitard and let the neon vibe do the talking and your hips do the moving. Finish with our Mel Black Hightop Platform Trainers and our Bailey Black Faux Leather Zip Bum Bag. Wine, wine...
It's time for some pop, fun loving vibes! This is that song when the sun is beaming through your sunnies and you're sippin' pimms with your gals waiting for the next acts on stage.
Bring those happy and hella cute vibes in our Gwen Brown Tie Dye Flare Trousers and style with our Rosie Grey Basic Bralet, Sophie White Cropped Frayed Denim Jacket and our Tamia White Faux Leather Chunky Lace Up Boots. It's a must!
Oh gals it's that friend zone song! There ain't no time for boys at this festival, this songs callin' your ladies giving that bye bye boo vibe.
This look is all about you gal, so style up our Kim Black Middle Finger Graphic Oversized T-Shirt with our Donna Pink Disco Cycle Shorts and don't stop bringing the attitude. Finish the look with our Bella Black Chunky Knit Stretch Trainers and you are bringing the sass!
Just like a gal on youtube said this is the song you want to dance to at 3am. It's the dancefloor filler and after party starter. We're talking power, attitude and hella bad gal vibes.
This outfit is all about standing out from the crowd, so bring it in our Nicole Neon Orange Cargo Trousers and our Sarahi Black Eyelet Mesh Crop Top because girl you are levelling up your look. Finish with our Kora Neon Orange Snake Print Bum Bag because baby there's no limit!
Oh girl, it's that house vibe. You see that guy from across the tent, he sees you so girl it's time to show what you've got. It's sassy as hell and it's the song your 100% strutting too.
Keep walking honey and watch those eyes roll in our Ciera Neon Green Cut Out Ruched One Shoulder Dress and bring the glam to the festival. Keep it sexy and add more colour in our Page Neon Yellow Perspex Boots. Go bold or go home!
You know you've just partied harddd and it's the after after party, you're chilled AF and feelin' those drinks but livin' for this moment. Future is taking us into the zone and out of our heads!
Sweat it off in our Jess Black Graphic Oversized T-Shirt and our Paris Black Fishnet Cycle Shorts, this look is for that effortless bae who still looks hella cool. Finish with our Tegan Black Gold Frame Aviator Sunglasses and layer up those chains.
No bad vibes here, only good vibes. You've got the bbq on and those camping chairs are out, dance in the sun and let your hair down honey because this song is takin' us to paradise.
Bring those tie dye feels and add some sunshine to your look with our Sutton Blue Tie Dye Split Dress and get that dress moving your way. Finish with our Chloe White Snake Print Cowboy Boots and kick those boots in the dust. Because you are livin' your best life!
Clap those hands, tap those feet and let it all loose honey. Oh yes this song is getting you off the grass and onto the stage. We're callin' for a dance off and there ain't no stopping us!
Bring the prints in our Jessy Multi Snake Print Flare Trousers and add our Andi Mocha One Shoulder Jersey Crop Top. Because you know that music is kicking out those flairs. So finish the look with our Eve Gold Diamante Zip Bum Bag and watch that bag sparkle.
The schmood is turning into an all out mood, you're with a group and getting festival ready with drinks and the best company. We here for this tune, all year round!
You know you're walkin' out of that tent ready to go in our Sarai Neon Green Utility Co-ord Set and we're backin' up your look. Finish with our Henley Black Bucket Hat and our Haven Black Mini Bucket Chain Bag. Pandaaaaa.
Missy Empire
xx