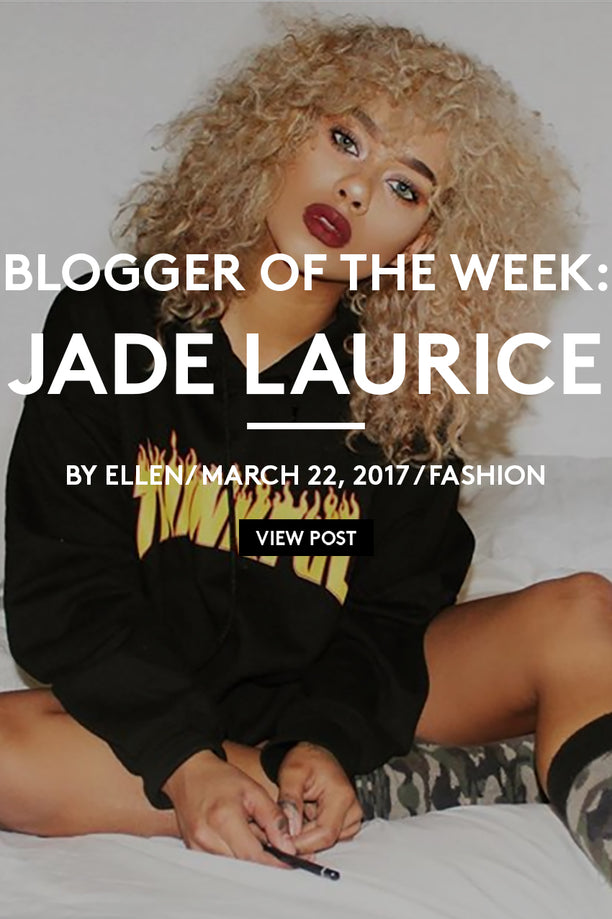 Blogger Of The Week: Jade Laurice
Jade Laurice (@jadelaurice) is the coolest blogger gal to enter the world of influencers recently. We were instantly mesmerized by her ever changing lust-worthy hair, 90's style and artistic background when we came across her profile on Instagram, so we needed to find out more from this mega babe about her style and influences. I was even lucky enough to meet her recently at LFW with people introducing her as the next big thing saying "she's going to be huge", and this certainly wouldn't surprise me. Her unique style has drawn many brands in recently, and we managed to ask her a few questions to get all you Missy Girls and blogger babes inspired.
Taliyah Distressed Boyfriend Jacket
How did you become an influencer?
I started innocently blogging my style and art on tumblr with selfies and outfit posts. People became interested in my hair and fashion style so I dedicated more of my time into Vlogging on YouTube and Creating blog posts about it.
How would you describe your style in 3 words?
Sporty, 90s and Artistic.
Who are your biggest style icons?
My biggest influences are Zoey Kravits, Rihanna and ASAP Rocky.
Where do you find style inspiration?
I have a folder on Pinterest full of eclectic styles from celebrities and other bloggers. I also love the new feature on instagram where you can flag posts, so most of my inspo is from their.
What are you listening to at the moment?
I found the oldschool album 'Crazy Sexy Cool' by TLC so I've had that on repeat all week, other than that I'm always playing Kehlani and Rihanna.
What's your favourite trend at the moment?
My favourite trend currently is oversized jumpers and corset belts, my style is mainly very oversized and casual so being able to create a womanly silhouette elevates my usual look.
Tessia Blue Camouflage Denim Jacket
What's your favourite thing to do at the weekend?
I'm always painting at the weekend, it relaxes me and keeps creative. Then in the evening no doubt I'll be partying in east London somewhere.
What's your go to piece in your wardrobe?
My go to pieces is always one of my @Pocalondon denim jackets, I create new ones every week so I'm always rocking a denim jacket from my collection.
What's your favourite Missy Empire piece at the moment?
I love my Cameo denim jacket by missy empire, it's such a great conversation to any outfit, dressy or casual.
.
Want to know more and see more of her cool looks?
IG: @jadelaurice
www.jadelaurice.co.uk