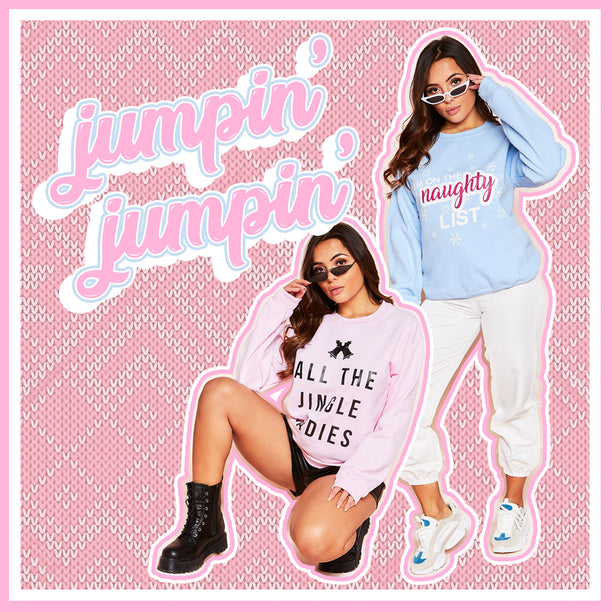 It's nearly Christmas and you know what that means, Christmas jumper day is coming in hot and let's be real you want the best, most boujee jumper in the office, right? We got you babe, we've got a Christmas jumper for every kinda bae. So get in the Christmas spirit (or drink one) and sleigh all day this jumper day with our top picks...
OH DEER T-SHIRT
This one's for the clumsy gal in the office who's always spilling her brew and is always the first one to fall on the works night out coming in on Monday head to toe in bruises - we all know her!
Style up our Rylie Nude Oh Deer! Slogan T-Shirt with our Olivia Red Vinyl Mini Skirt and our Brook Red Pointed Sock Boots and paint that office red, girl. Go Rudolf red or go home honey!
NAUGHTY LIST JUMPER
This one's for the bad gal of the office, always turning up late and telling stories of the night before – even if it's a Wednesday. She's the queen of YOLO and is always up for after work drinks that turn into an all-nighter.
Style up our Kyla Blue Naughty List Christmas Jumper with our Lia White Chain Cargo Trousers and our Geri White Grey Lace Up Trainers coz if you've gotta wear a Christmas jumper, you may aswell bring the attitude and level up your sass!
JINGLE LADIES JUMPER
This one's for the newly single lady who are livin' in it up with her gals and are all for that break up glow. We're backing up this boo!
Style up our Clare Pink Jingle Ladies Christmas Jumper with our Tessa Black Faux Leather Belted Tie Shorts and our Black Faux Leather Lace Up Boots because you're one independent woman giving Christmas the power!
SANTA I NEED IT JUMPER
This one's for the gal in the office who is always rocking up in new clothes and wearing the latest designer must haves. She's the one who's always skint AF but looking fly AF!
Style our Callie White Santa Christmas Jumper with our Emma Black High Waist Cycle Shorts, Emma Camel Extreme Platform Trainers and our Jess Black Faux Leather Double Bum Bag because let's keep it real, it may be Christmas jumper day but you're obvs still gonna be on trend!
BABY ITS COLD OUTSIDE
This one's for that gal who's boo'd up and livin' her best life at home watching Netflix with bae, who's more than likely gonna flake on the Christmas party.
Style our Brinley Grey Baby Its Cold Outside Slogan Sweatshirt with our Patsy Denim Ripped High Waist Jeans and our White Snake Print Chunky Trainers. Denim is always a vibe, so a Christmas jumper and jeans is a look you can't go wrong with this Christmas jumper day!
MISSY EMPIRE
XX