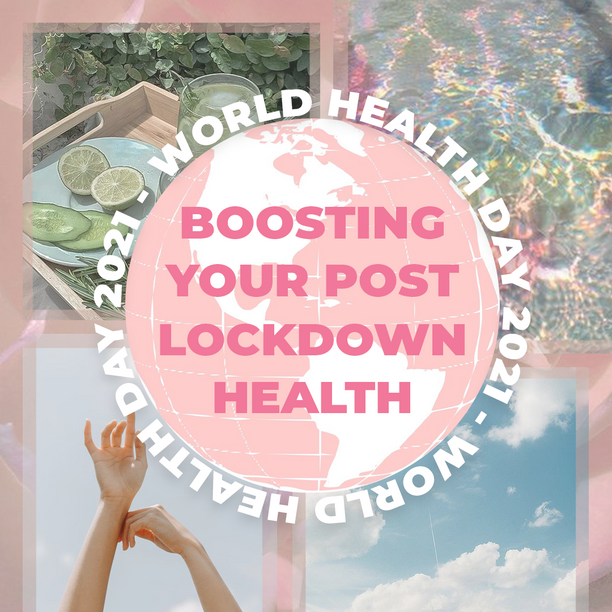 EASY WAYS TO STAY ON TOP OF YOUR POST LOCKDOWN HEALTH
With lockdown restrictions easing, we know just how tricky it can be to keep on top of your health. Especially when there is so much temptation around. Bars are re-opening, festivals are starting back up, and social gatherings will soon be allowed (OMG)! So, in honour of World Health Day, we're here to help with our easy ways to stay on top of your post lockdown health. 
Be Kind To Your Body
Bars and pubs are re-opening and the excitement is real, babe! We can't wait to be bottomless brunchin' in the sun with our girls, but at the same time it's so important to not go crazy with the alcohol - hangovers are not the one! Moderation is your best friend here. Listen to your body and limit your alcohol consumption when you can. This will help you stay alert and fresh to make the most of your new found freedom. 
Load Up On The SPF
After being stuck inside for months, we feel like we've forgotten what the sun feels like. If you're planning on catching some rays this summer, we don't blame you! But make sure you're doing it safely, gal - top up on the SPF and take breaks in the shade. Especially in between 12pm and 2pm when the sun is at its hottest. 
Stay Hydrated 
This summer is going to be a busy one, babe. Whether it's taking a walk in the sun or enjoying a meal with friends, we're going to make the most of the nice weather (obvs). As the days become longer and your schedule becomes busier, it can be easy to forget to drink your water. Avoid becoming dehydrated by carrying a reusable bottle of water with you so you can enjoy the warm weather safely. 
Take Slow Steps If Your Feeling Anxious 
As exciting as it is that restrictions are being lifted, you're not alone if you're feeling anxious about life returning to normal. If you don't feel comfortable stepping out on April 12th, don't feel like you need to. Take your time and take slow steps - don't forget you've made it through a pandemic, doll! If you can do that, you can do anything. 
Remember, babe, it's important to follow and stick to the government guidelines - we only have a few months left! Make sure to look after yourself, check on friends & family, and enjoy your summer!