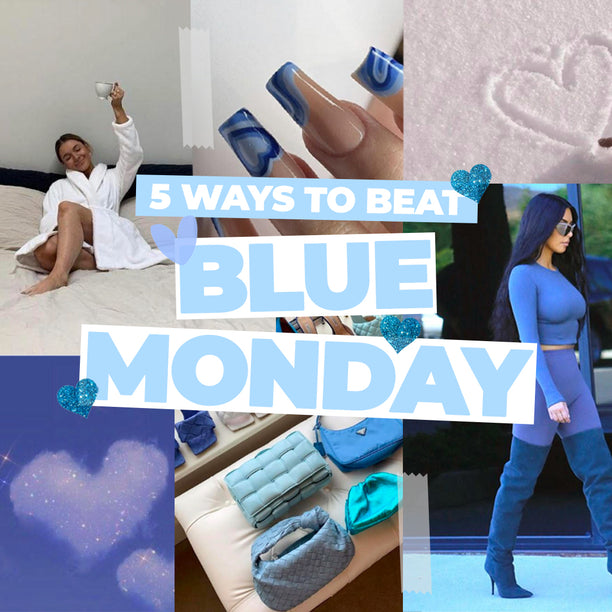 FIVE WAYS TO BEAT BLUE MONDAY
So Blue Monday is upon us again but don't worry babe, there's no bad vibes around here. For those of you who don't know, Blue Monday is supposedly the saddest day of the year. It's Monday (eugh), Christmas is now a distant memory, it's cold AF and our bank account may not be looking too healthy RN. Not ideal right? So we've rounded up five of the best ways to make Blue Monday feel like a Bank Holiday Friday in June. Good vibes incoming...
Eat A Nutritious Brekkie
There's a reason why breakfast is the most important meal of the day, and it's not because pancakes and waffles are just so yummy. Breakfast also has a ton of healthy benefits to it! It can help with weight loss (if that's your thing, totally ok if not), pack your bod full of vitamins and is the ultimate way to boost your brain power. But if you think a bacon sarnie is the answer to your Monday blues, then think again babe. Foods like yogurt, berries, bananas and oats are all amazing for boosting our mood and making us feel on top of the world. Smoothie bowl anyone?
Do A Morning Workout
Whether it's a HIIT workout to get you pumped the F up or a gentle yoga and chill sesh, it's time to rearrange your daily exercise. Starting the day with some exercise is literally THE best way to beat off those bad vibes. Not only is it a complete mood booster, it is also a game changer when it comes to feeling more alert and less distracted throughout the day - a must when WFH is our way of life right now. Plus if you're not really feeling it that day, it is out of the way before you've even had time to worry about it! Who says you have to compromise your relationship with Netflix to stay healthy girl?
Treat Yoself
This may have been our mood for the whole 2020 but seeing as nothing has changed, let's make it our 2021 mood as well. And tbh, is there a more perfect day to do it than Blue Monday? We aren't saying go out and spend all your dollars on that Chanel bag, that's a bit too extra for the current sitch babe. But new loungewear, a bottle of vino and some good snacks sure sounds good to us right now. Blue Monday? Completed it hun.
Take Your Breaks
Just because you're doing your thing from home at the moment, it doesn't mean we have to neglect our chill. Studies show that taking regular breaks actually improves our productivity, which means less time working = getting our sh*t together! Who knew right? Plus, more time at home means our break times can be even more relaxing. You can actually cook yourself a nice fresh lunch, pop out for your daily exercise or if you're lucky, you can even squeeze in an hour of your fave Netflix show. P.s - working all day from bed is also included in the list of acceptable ways to stay relaxed at work.
Schedule In Some Girl Time
If you're missing your gal pals, then Blue Monday may be exactly the kind of day when things start to get on top of you. But relax babe, there are still plenty of things you can do to stay connected with your besties. So far we've done birthday zooms, online Christmas parties and Saturday night skypes so now it's the Blue Mondays turn to get a virtual makeover. So pop a bottle, grab your phone and get logged on. You could even play some fun games and dress up as your fave movie character to make things super silly! So whether it's with your mum, sisters, girl gang or work pals - there's nothing like some girl time to lift your spirits.
So now you're all up to date on what Blue Monday's really all about, you've got everything you need to banish those bad vibes and make it your best day! You've got this gal xo