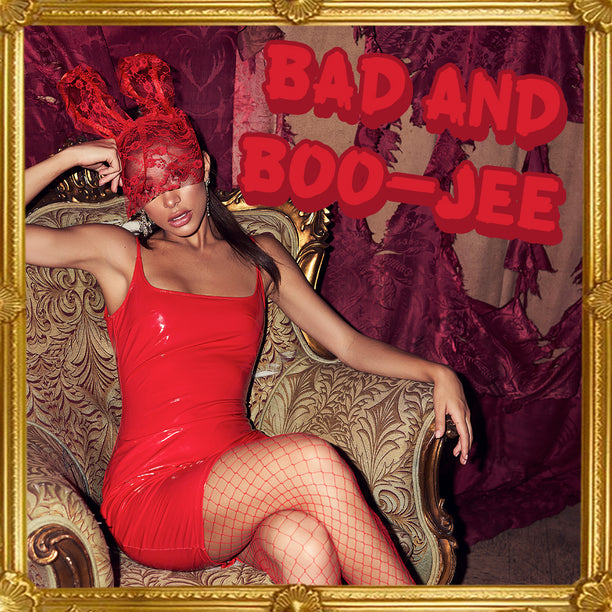 GET READY TO SLAY HALLOWEEN
Holla-qween! We're running through our top looks to give you major squad-ghouls this fright night... Be prepared for killer slogan tee's, gothic monochrome styling, badass boots, faux leather, velvet and other worldly accessories. It's time to vamp up your wardrobe and slay these other witches in skeleton prints, bat-tastic designs and monster mash-up's. Clear the cobwebs off that dark lippy and finish your look off with an even darker smokey eye. Halloween is not just a night, it's a lifestyle and we've got everything for our ghastly gals to creep 'em out.
LUSTFUL LEOPARD
It's time to unleash your inner wild child and become a lustful leopard! Peep the purr-fect 'fit with our Keadie Leopard Print Mesh Belted Bodysuit and add our Coco Coffee Ribbed Knit Midi Skirt for that dark and dangerous look. This mixes class with a bad gal vibe, so if you?re after that trick or treat look then this skirt is howling your name! Make em' roar with our Fleur Gold Lion Square Earrings and our Gabriella Cat Ears Headband! Take off the ears and girl you've got the hottest look for date night dining. Yo' costume just got boo-jee baby!
BOO YOU WHORE
Not feeling a Halloween costume this year? Then gal all you need is our Jordan Red Boo, You Whore! Slogan T Shirt - it does the talking for you! It's also the perfect hungover attire.
Get frightfully fierce with our Ines Red Strappy Patent Pointed Heels and fishnet tights to get that outfit looking FIRE! And get those blood lust feels with our Sophie Black Knit Silver Chain Drop Choker it's a dead detail you don't wanna miss!
FAIRY GONE BAD
We gotta' thing for black magic! It's time to hex your ex in our Quinn Black Vinyl Cycle Shorts and leave him feelin' cursed. But this fairy ain't no good girl; add our Brisa Black PU Bralet, Aura Black Glitter Fairy Wings a sultry smokey eye and some strappy heels, coz girl a black heart is the only accessory you need this Halloween - your alter ego just had a makeover and she's turning BADDDDD.
HELLA ANGEL
We're giving that halo to you queens livin' as saints! Get that cryptic co-ord and shop our Cami White Knit Ribbed Co-ord Set - it's an season favourite. If you're playing angel for the day or brunching with your gals, this is a soul saver! White is the colour of saints, angels and heaven so girlllll don't be a sinner this Halloween!
Get our Kailee Silver Metal Chain Cross Choker to keep those lost boys at bay and shop our Venus White Feather Angel Haloto complete that angel illusion. If you don't have the halo we ain't crowning you a good girl, so style it together for that dreamy AF look this Halloween!
WHATS UP WITCHES
There ain't no coven without that badass supreme, so get witchy witchy in our Gillian Black Utility Belted Dress and get them screaming bad witch alert! Wanna wear it again? Conjure up another look that every gal needs in her drobe' Halloween or not. Style with heels and glasses, you'll look so good even the skeletons in the closet will be shook!
Who said witches have to be scary? Get your love potions brewing because you'll be putting everyone under your spell wearing our Neda Black Large Fishnet Tights. Style with our Esmeralda Black Witches Hat to finish off this 21stcentury witch.
REDЯUM, REDЯUM, REDЯUM
Unveil your vinyl vixen! Look killer in our Darby Red Vinyl Square Neck Dress and come through drippin' in our blood stained bodycon. Level up in our Neda Red Large Fishnet Tights and let the walls whisper your name this Halloween!
Finish off this bloody hellish look with our Carmen Red Lace Bunny Ears Veil Headband to swap your devil horns with our blood curdling bunny ears, for a modern day twist on the demon behind the red door.
HOUSE BUNNY HONEY
The mansion is calling! Get a Shelley makeover in our Mae Lilac Glitter Unitard and creep it real this Halloween or style with strappy heels and a cute clutch for going OUT OUT with yo' boo's! Unitards are taking over spooksville and we are backing up this slay all night fave!
Style with our Shelley Pink Lace Bunny Ear Headbands and the biggest hoops you own for next level sass levels. If a bunny is your spirit animal and scary isn't your scene then a badass bunny is your go to.
MISSY EMPIRE
XX