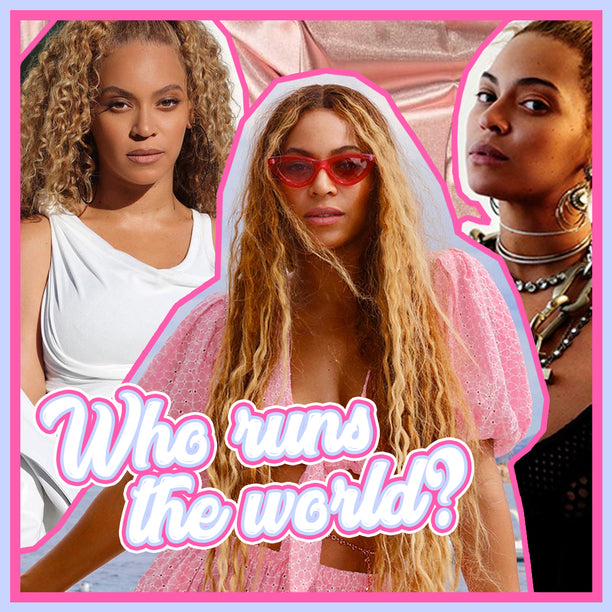 All hale the QUEEN that is Beyonce, the ultimate bae. The leader of Destiny's Child, the creator of Sasha Fierce, the ultimate wifey and the hottest momma to grace us. Let's face it, Beyonce is heaven sent, and heaven she has brought. From the sass and attitude of 'Single Ladies' and the female empowering 'Run The World (GIRLS)'. Let's take it back to the start and remise on all things Beyonce! Just, because...
1998
There ain't no timeline without Destiny's Child... and DAMN GURL those leather looks and sassy silver numbers are fo' sure making a come back. Known for bringing all the drama, our girls released their first album in 1998 - bringing us their first track 'No, No, No', to slay with 'Survivor' and let's not forget 'Say My Name'. If you don't know those bangers, r u ok hun?
2002
Hey there gold Bey! Dripping in metallic layers, Beyonce showed us that this bad*ss chick has it all. She can sing, she can act and she's killin' the game. I mean who doesn't want to dress in gold and have an afro? We know we do! Some time after this, Bey met Jay, and the rest was history. The OG Bonnie and Clyde established themselves as our King and QUEEN of the music scene.
2003
2003 was the year Bey really gained queen status after going solo and taking the music industry by storm. Releasing her Dangerously In Love album featuring then boyfriend, Jay-Z. This lady doesn't do anything by halves, there's a reason she's hip hop royalty, and that's her outfits. She's either dropping it in camo or drippin' in diamonds, selling 317,000 copies of the her famous rock encrusted album cover and leading the way to be the queen of pop.
2004
Grammy Royalty? We think so! Queen Bee took home 5 Grammy awards (of course she did) in her sultry satin number and showed the music industry who's the boss by tying the record for most won by a female. Yassss queen, representing! The power couple also made their debut at the MTV VMAS, bracing our screens with matching outfits and got the whole world HOOKED on their love story.
2008
Where the rumours began. Marriage of Beyonce Knowles and Shawn Carter left us overjoyed for the badass power couple. And like most sweet things, the sting comes too - talks of an affair left fans shocked and baffled. But like the lady she is, she brushed, that, dirt off her shoulder.
2010
Okay ladies now let's get in formation. Beyonce takes home 6 Grammys and wins the most awards in one night for a female. GET IT! Bringing the FIRE in her bodycon maxi dress, showing us curves and a whole lot of class. She's shaping the industry and changing the face of women, taking body confidence from a 0 to FIERCE AF.
2011
The performance of a lifetime! Queen Bee reveals she's bringing a princess into the world and we are shook. Suited and booted, complete with a glitter microphone, she rubbed her perfect baby bump showing us it's no longer 'Me, Myself and I'. Mummy goals right there! In 2012 the duo became an all round dreamy unit as baby Blue enters the world of fame and fortune.
2013
The year Beyonce got political. From day 1 this lady has shown us body confidence, girl power and all round sass, but in 2013, she asked us to Listen. Backing the social, policital and economic equality of sexes, Beyonce uses her platform in the industry to strive for equality. Meanwhile, her fifth self titled album 'Beyonce' hit one million sales in only six days - you can have it all, girl!
2014
On the run?! That infamous elevator fight that packed all the punches online (no pun intended). It put the rumour mill into overdrive, and the beehive, but that didn't stop her. Beyonce went On The Run on tour, serving us looks in her infamous monochrome flag outfit and looked happier than ever with her boo! So boo you, rumours!
2016
Super Bowl sass! She came, she slayed and she gave us the Destiny's Child reunion we'd been waiting years for. She gave us the Formation tour and soon after the sound track to every broken woman's life, Lemonade. Adele named Beyonce the artist of her life, saying the album was monumental, and didn't we know it. She brought raw-ness and real-ness, wrapped up in a pretty bow; leading all fallen females back to strength. And we love her for it. Say it with us, "we're all SURVIVORS".
2017
2017 got us all remembering where we was when Bey posted THAT pregnancy photo on Instagram. Soon after, twins Rumi and Sir were born making the Knowles-Carter family a whole lot bigger. Jay Z also released his album 4:44, confirming those cheating rumours. It divided a nation, but not the power couple, as they went on to renew their wedding vows.
2018
'Chella shut down, Houston ROCK IT. Headlining the Coachella main stage, Beyonce treated us to our second slice of Kelly Rowland and Michelle Williams in 2 years. Her female finesse didn't stop there - she went on to direct all aspects of her recent Vogue issue, making her the first black woman to have full control. On The Run 2 was announced, this time Mr Carter was joining Mrs Carter, showing the world why they are called the ultimate #powercouple even after their troubles.
When we grow up, we want to be Beyonce. Happy Birthday Queen Bee, we're celebrating you all month long!
Missy Empire XX