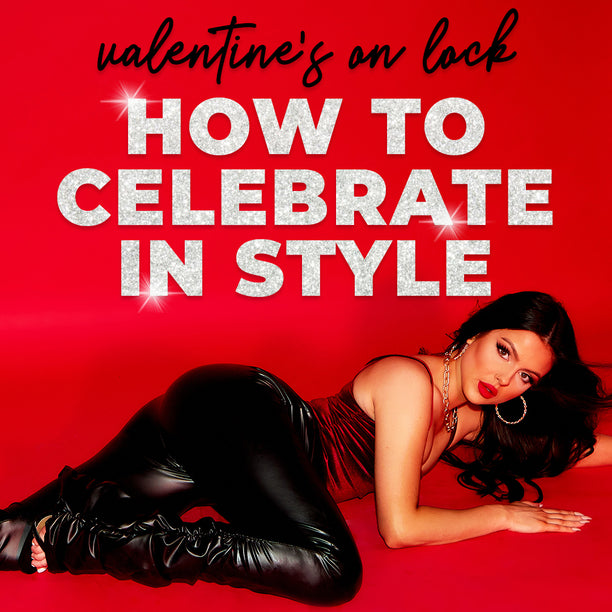 HOW TO CELEBRATE VALENTINES DAY IN LOCKDOWN
Valentine's Day might not be the norm for any of us this year but don't worry hun, love is still in the air! We realise lockdown and romance aren't two words that necessarily belong in the same sentence, but that doesn't mean we can't make the most of it. Whether you're out to impress, all about your self love or just want to have fun with your gals, check below to find out how to put a romantic spin on your big night in.
Spa Day
Self care. Now there's a word we all love (and need) to hear! This year the vibe is all about celebrating self love, and what better way to do you than pampering all day long? And whilst we've got a bit of time on our hands, why not make your own treatments? There are tons of DIY lotions and potions online to get you glowing like the goddess you truly are, so get ready to pamper yourself from head to toe babe.
Side note: drinking wine in the bath is also permitted!
Bottomless Brunch At Home
Hands up if all you want is to be brunching it up with your babes for the weekend? Not long to go doll, better days are coming! But until then, it doesn't matter if you're in a flat share, living at your parents' or moved in with bae - bottomless brunch is never not a good idea. Cook your fave brunch dishes (it's the avo on toast for us) and pop open a bottle or two. And don't forget to get glam and turn that playlist all the way up babe!
Cinema Date
Ever seen those gorj little pinterest setups where someone has hung a bed sheet and projector to create the cutest cinema date ever? Goals right? And the best thing is, they're soooo easy to make. All you need is a white sheet, a projector - you can find plenty on Amazon - and your fave scented candles to set the vibe. The trickiest part about it all will be finding a Netflix movie that you both agree on!
Moonlight Walk
So it might be cold AF right now, but there's something hella cute about going for a walk at night. And the best thing about it is that it's an outdoor activity - which means we can meet up with our bestie. Yay! Plus, any excuse to get a bomb new fit and get a little extra taking pics for the gram right?
Come Dine With Me Themed Night
Trust us, this is so much fun babe. And the best news is, it can be done in person or virtually! How it works: everyone takes a turn to make a course of their own food for everyone else to try, then you all pick your faves to find a winner. And don't worry if cooking isn't your thing babe, crisps and dip defo counts as a starter! This is something that can be done with your family, bae or gals if you're living together. But if you're an independent sis, why not do it over zoom and make some cocktails whilst you're at it?
Now you've got all the inspo you need to celebrate V Day socially distanced, all that's left to do is find the perfect fit. Whether it's new lounge, outdoor attire or something a little more risque - Missy is your girl babe! xoxo