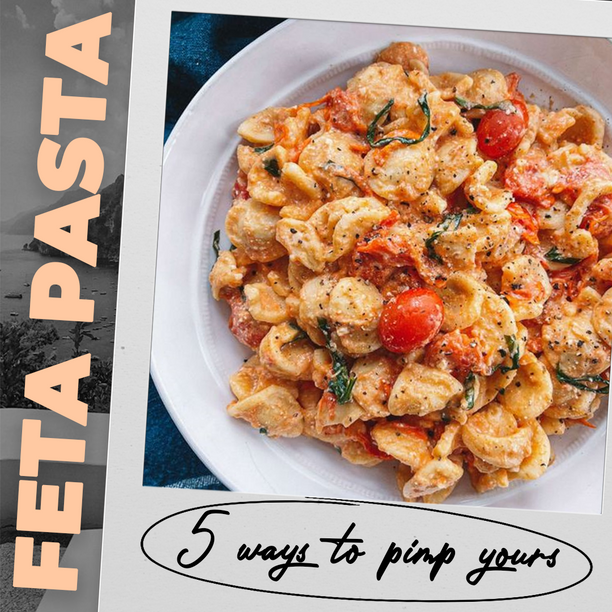 HOW TO PIMP YOUR FETA PASTA
Calling all pastaholics...your feta pasta is about to get an upgrade! If you've not already tried the TikTok trend that's blowing up all over your socials RN, then what else have you been doing babe!? We're obsessed with all that feta-ery, pasta-ery goodness at Missy HQ, so we thought we'd share our fave ways to make it even better! Consider dinner tonight sorted? 
All The Cheese 
You didn't choose the cheese life babe, the cheese life chose you. If like us, you're a cheese fanatic then try adding in a ball of mozzarella into your feta pasta. The cheese will melt in the oven along with the feta. Meaning when you mix in your pasta you will be left with tons of gooey, stringy goodness wrapped around your fork. Just think of the cheese pull boomerangs you can get! 
Add Some Protein
Thought feta pasta could get any better? Well think again babe. Try adding in your favourite protein for a bit of extra bite. We think chicken works best or if you're into your seafood, try adding prawns. But make sure you cook them separately and add them in at the end if you want to get the best out of this combo. Our mouths not watering, yours is! 
Spice Up Your Life
If you like it hot like our bae Cardi B, then you NEED to try adding a kick into your feta pasta. Our weapon of choice is dried chilli flakes - super easy, no chopping and instant yumminess. Just sprinkle them on before putting it in the oven. And don't forget your herbs chef! Basil and parsley are the most popular, but don't be shy of going wild with your faves. 
It's Crunch Time
If there's just not enough carbs for you in the classic feta pasta recipe, then go all out and add some breadcrumbs. All you have to do is make everything like normal, then sprinkle over some breadcrumbs after you've mixed in your pasta. Then pop it under the grill to crisp up for a couple of minutes. Crunchy on the outside, squidgy on the inside. Genius, right!?
Eat Your Greens
Ok we get it, the thought of all those carbs when we're trying to get our June 21st body on is a lil scary. So if you are feeling a little health conscious, all you have to do is load up your feta pasta with fresh veggies. Go crazy babe! Our faves would have to be: onions, mushrooms, red peppers and spinach. P.s did you know you could make it completely vegan? There are some really amazing feta substitutes out there, so you don't have to miss out on the hype babe. 
And with all those carbs, you're going to need something stretchy and hella comfy to eat them in. Because who wants to restrict their pasta intake for something so simple as a tight waistband? We're thinking our Melina Cream Fleece Joggers and Erin Cream Oversized Fleece Sweatshirt is the perfect combo for those days when only a big pile of penne will do!