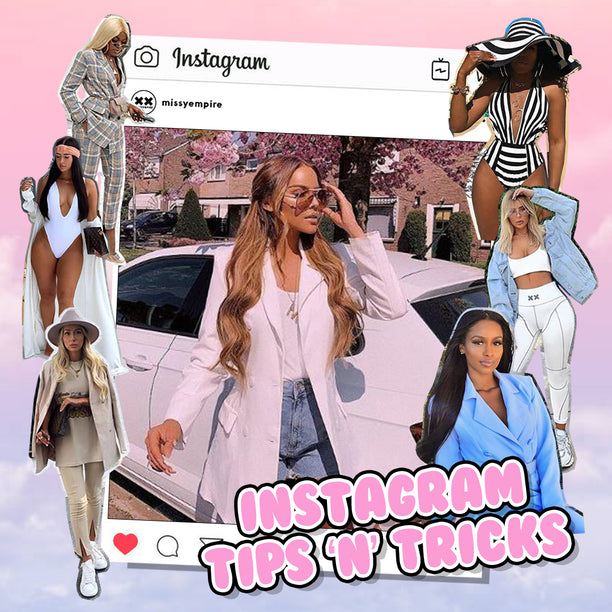 INSTAGRAM TIPS AND TRICKS
Wanna up your Instagram game? Then gal, this blog post is for you. We have put together a guide for you honeys wanting to level up your Instagram and rack up those followers. We're here to support you babes who want to be apart of the influencer culture or the huns who just want to make your personal account cuter – whatever you're doing it for, we backin' you up.
STEP 1
Find your style and aesthetic - are you an aesthetically pleasing gal who wants all her squares to match, got a thing for those street style shots or want your instagram to be like a personal blog? Whatever your style, do you and show the world what you're about!
STEP 2
Keep your images bright and clean. It doesn't mean you need a professional photographer following you around, but keep your images high quality and you'll be sure to engage, engage, engage!
STEP 3
Be authentic and always stay true to you. Everyone loves great imagery but in a world full of filters (let's face it, we all use them!) be open and honest. We all love the whole Instagram vs reality vibe, we're all humans at the end of the day – noone's perfect.
STEP 4
Stay consistent babes! There's nothing worse than an unorganised Instagram and bombarding people with 3 posts in 1 day because you forgot to post for 2 days. So make scheduling part of your mantra and schedule ahead hun.
STEP 5
Connect with your audience. Build your girl gang and really interact with your followers. If that's posting Instagram stories, doing Instagram lives, replying to comments and running competitions – be sure to keep your audience involved. Without these honeys your following wouldn't be growing!
STEP 6
Be on top of trends and do them your way. Don't follow the hype and copy other influencers, fashion is all about how you do it. So don't be afraid to try something new, people get bored of seeing the same stuff, so mix it up and stay ahead of the game.
STEP 7
Don't stress. Instagram should be fun, not a chore. Stay connected to your life and don't let it take over, it's okay to have some time out if you need it.
MISSY EMPIRE
XX