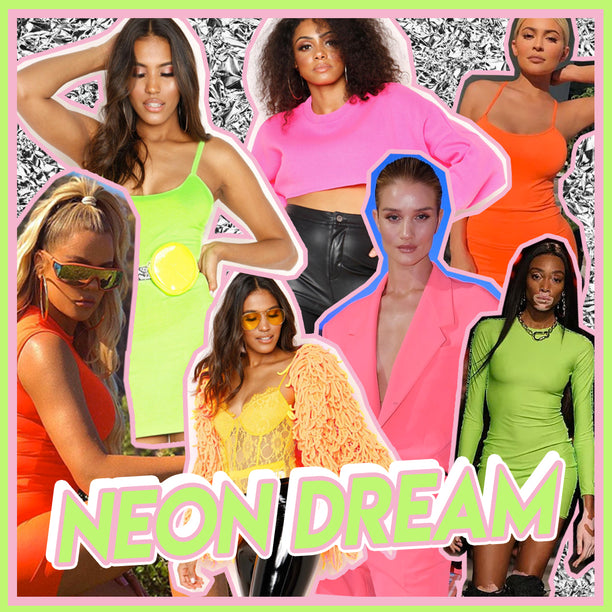 Did you know neon's a vibe? Since Kimmy K rocked up with neon hair, our neon obsession has had a re-load and we are backin' up the trend. We've put together some neon favs and where to wear them, so you've got a neon look for every occasion. It's time your wardrobe got litty!
GIRLS GOING OUT!
Get that night out vibe in our Laurie Neon Green Mini Dress, we've got colours coming in HOT. Get choosy with neon pink and neon orange too, girl! This is a day to night kinda slay, style with our Wendi Black Velvet Puffa Coat and Tamia Black Faux Leather Chunky Lace Up Boots for that cool girl edge. Or dress it up with that party girl rsvp with our Jenna Black Peep Toe Perspex Heels and Aniyah Black Cropped Shaggy Faux Fur Coat. Just like your dream man, get a dress that can do both!
THE FALL FAVOURITE!
If you're looking for the perfect statement piece, Gerry Neon Orange Shaggy Cardigan is your go-to. This fall favourite is the queen of versatility. Day drinking with your huns? Style it up with our Maxine Black Round Neck Bodysuit and Kattie Black Belted Pocket Cargo Trousers. Got a bonfire with bae? Then pair with our Jenny Black Chunky Knit High Neck Jumper Dress and our Kalia Black Gold Bee Detail Boots. Life is too short to blend into the crowd, babe.
SOLE-MATE MATERIAL!
Girllll, it's time for a sock boot update! Get that sole-mate style and make every outfit look FIRE in our Jaylin Neon Pointed Sock Boots, if you're the queen of sass, then you need these boots in your life. Style with our Darby Black Vinyl Mini Dress to level up the attitude - If you're gonna go Jaylin, you may aswell look badass!
CROPPIN' IT HOT!
It's that time of year when jumpers become an essential in our seasonal wardrobe and girl, why not go neon? They don't have to be boring - boujee only please! Get croppin' it hot in our Pauline Neon Pink Cropped Jumper and style with our Nina Black Faux Leather High Waist Jeans and Ella Black Block Sock Boots, coz girl your jumpers doing all the talking. This is one bold beautie you won't want to miss!
ACCESSORISE YO' SELF!
Get that photo opp essential and up your Insta-game with our Jess Snake Print Neon Bum Bag, it's giving us all the feels this season! Get giggin' till the sun comes up and style with our Debbie Lime Green Oversized T-Shirt and Quinn Black Vinyl Cycle Shorts – you'll be headlining!
MISSY EMPIRE
XX