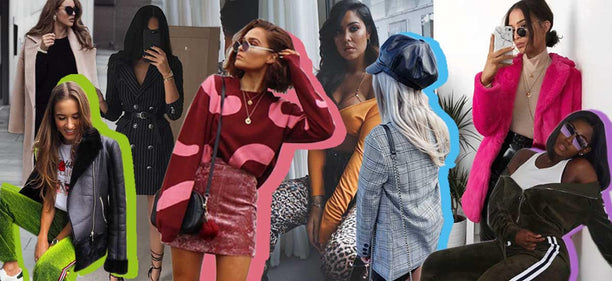 Look Hot, when it's Cold. It's a vibe.
There's nothing like a bit of change-in-weather to get your AW knickers in a twist. Girl, leave those thermal vests at home; we are giving you the low down on how to look hot, even when it's cold. Whether you are nipping to the shop or heading out with the girls, we are here to add the glitter to your cooler-clime outfits.
(Faux) Fur Real
Faux fur is a trend that will live forever in our winter wardrobes (as well as J-Lo's!) - so it's no secret our sassy sista Lissy Roddy is a fan! Take a que from the colourful queen and chuck on the Yasmin Hot Pink Mid Length Faux Fur Coat to take any outfit to the next level. Opt for an specled print design like Taylor Ward in the Cleo Monochrome Shaggy Faux Fur Coat if you want to keep things casual. Feeling fancy? We've got a jumper for that. Rock the Louise Mocha Faux Fur Sleeve Jumper like Charlie Kamale. #detailsondetailsondetails.
@lissyroddyy
@taylorwardx
@charliekamale
Shop their top picks from here
Statement (s)layers
Don't let the cold stop you from staying spicy, babe. Statement trousers are a perfect way to turn up the heat on any ensemble. One Grammed shows us how the Shelby Red Glitter Stripe Trousers can defeat being drab, whilst still shielding you from the chill. Stay sassy in the Flavia Leopard Print Crushed Velvet Trousers like beauty queen Yasmine Chanel. Or give the Shelby Green Glitter Stripe Trousers the uber green light like Alex C Serruys.
@yasminechanel
@1grammedestyle
@alexcserruys
Shop their top picks from here
Tailored Luxe
Put your floaty pieces on pause for the foreseeable, there's a new girl in town and she's tailored. Winter makes way for structured statement pieces year on year and this year it is giving us all of the feels. Nothin' more says on trend RN than the word gingham. The Silver Mermaid teamed our Tasha Grey Checked Print Longline Blazer with our Bailey Black Faux Leather Baker Boy Hat - is this not just a match made in slay worthy heaven?! Going out? Pull the tux from the closet and team it with a statement belt. Charlotte Emily Sanders rocked our Giselle Black Pinstripe Tuxedo Dress with TO DIE tie up shoes too! Heading for coffee? Do it in camel. Nada Adelle effortlessly shows us how to style the Priah Camel Longline Coat with an #allblackeverything under.
@charlotteemilysanders
@nadaadellex
@thesilvermermaidxo
Shop their top picks from here
Velvet Touch
Don't sacrifice on chic - add some texture to your torso with the material of the moment, velvet. From Kendall Jenner, to Em Rata, to Beyonce; it's got us all wanting to add a bit of luxury to our AW wardrobes. Keep it cool like Chloe Lewis in our Oliviah Black Velvet Velour Popper Striped Trousers and the Kira Black Classy And Fabulous Slogan T Shirt. Double up like Queen Kim in the Bella Khaki Velour Striped Velvet Loungewear Set. Or add a pop of colour like Lissy Roddy in the Matilda Pink Velvet Mini Skirt.
@chloelewis91
@lissyroddyy
@queeen_kim
Shop their top picks from here