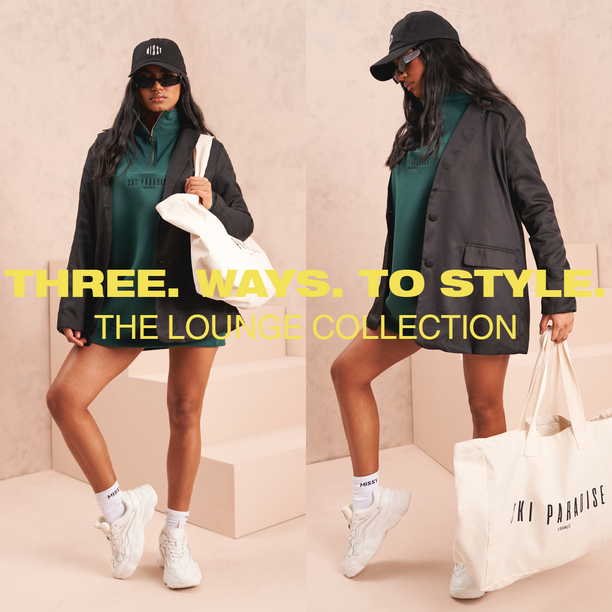 WAYS TO STYLE THE LOUNGE COLLECTION
Hey off-duty cutie, it's time to get your lounge looks on lock for the colder SZN. We're making chilling out the new going out, so you gotta add some seriously chill fits to your 'drobe. 
Whether you're planning a movie marathon with your besties or resting and resetting for the week ahead, we've got you covered with our women's loungewear edit babe. 
Keep scrolling for the ultimate winter inspo. 
Clean girl aesthetic
Gym at 8, Christmas shopping at 9. Tonal athleisure is the new 'it' fit this winter and we're LIVING for it. Simple and effortless, pair your favourite gym co-ord with a sophisticated beige trench coat and cute booties for the ultimate clean girl aesthetic. Who says you can't be comfy and cute at the same time?
Get the look with our Cerys Black Ribbed Leggings, Aaliyah Black Racer Top, Larsa Stone Trench Coat and Kyla Beige Ankle Boots.
Boss babe (but make it cosy)
Wanna look like a badass boss babe this winter? We got you!
Pair your favourite sweater dress with an oversized blazer for the ultimate 'got my shit together' look. You're gonna be hot AF in this cold weather, winter ain't spoiling your style, girl!
Get the look with the Jamilla Green Half Zip Sweater Dress, Hilma Black Baseball Cap, Shyla Cream Tote Bag and Brianna Black Oversized Blazer.
Puffer coat Queen
Tracksuits + puffer coats + chunky boots = the winter look of dreams.
Christmas shopping just got a whole lot cosier in this fit, babe. Treat yourself to gorge tracksuit and pair with an oversized puffer. Make duvet days a thing even outside, cause why not?
Get the look with the Jasmine Blue Oversized Sweatshirt, Verity Blue Joggers, Emma Black Chunky Boots and Zara Black Longline Puffer Coat.
Shop the full Lounge Collection now and refresh your 'drobe, we can't wait to see you rocking it!
MISSY EMPIRE xoxo