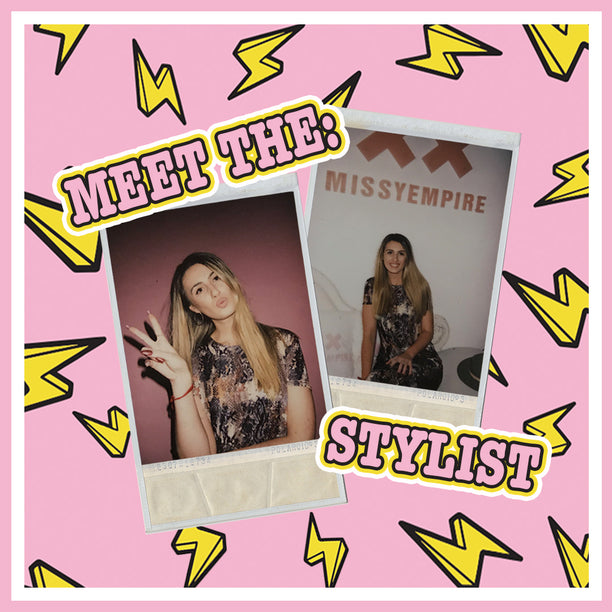 MEET THE MISSY EMPIRE TEAM
MEET THE STYLIST
It's time to holla at the #missygirls of Missy Empire and get the goss on our fashun fam! Say hello to our sweet yet sassy stylist and fashion buyer, Sophie Aldridge. She's a leading lady here and we are crushin' over her #trending style and bold blonde locks! We thought we would quiz our cutie for you babes wanting some killer style tips and get you the inside scoop on all this seasons must haves.
Describe your style in three words?
A little girly with a bit of an edge. Casual and Chic (May have been four there!)
Who are your style icons?
I get most of my style inspiration from bloggers/stylists on Instagram. I am currently loving @yasminearrabella, @emilyrosemoloney, fellow fashion stylist kellyhidge and celebrity stylist @ellisransonx.
Your wardrobe MVP?
Currently I cannot live without my Dr Martens!
They go with absolutely every outfit and are the only shoes which can deal with the long shoot days. I love styling outfits with the similar-looking Tamia Black Faux Leather Chunky Lace Up Boots which can also be bought in Wine and White.
Trademark accessory?
Hoops and rings.
What trend are you obsessing over right now?
I am obsessed with the Neon trend! The Tammi tops jazz up the simplest of outfits and make you stand out from the crowd, whether it's teamed with a leather skirt or your best denim jeans! I loveee our Tammi Neon Pink Roll Neck Top with Charlotte Black Patent Trench Coat and Haven Snake Print Trousers.
One item you're buying for the winter wardrobe update?
Fo' sure it has to be a coat - I have been eyeing up the Kaydence Brown Teddy Faux Fur Coat!
If you could only wear one designer for the rest of your life, who would it be?
Daizy Shely all day every day!
First fashion memory?
My nan was a personal shopper at House of Frazer and when I was younger, she would dress me up in expensive pieces from different high-end brands. I remember the feeling of being jealous that she got to work with these amazing clothes everyday and styling clients.
One item you would never wear?
Leggings.
Daytime Uniform?
I am currently loving wearing the Coco Cream Ribbed Knit Midi Skirt paired with a slogan tee and trainers, finished off with a leather J and a cute bag. This can easily be turned into a day-night look by adding some heeled boots and statement accessories.
How did you start styling?
Through internships, styling friends and my first full time job.
The five pieces from Missy Empire you're loving right now?
Haven Snake Print Trousers, Tammi Neon Pink Roll Neck Top, Cami Chocolate Knit Ribbed Co-ord Set, Dana Leopard Print Pleated Skirt and love love love our Donna Black Straw Perspex Mini Bag!
Your 5 style tips/ do & don'ts for A/W18?
1. Do add a bright bag if your clothes tend to fall in the more neutral, casual corner - our Romilly Red Faux Leather Belted Bum Bag would sass up the simplest of outfits!
2. The turtle neck tuck - Chic. Plus a go-to for Insta-stars, check out our Jenny Cream Chunky Knit High Neck Jumper Dress for a head start!
3. DONT forget those necessary staple pieces for example blazer's or other multi-use jackets and black faux leather pants, see ours here - Nina Black Faux Leather High Waist Jeans.
4. DO: Layer up but keep it flattering - Get yourself a fashionable coat but invest in styles tailored to your body as this will keep you inevitably keep you warmer whilst remaining stylish.
5. DONT say goodbye to your existing wardrobe, winter does not mean death to fashion. Put dresses over knitwear or short/ skirts paired with knee high boots.
The most fun part of your job?
Working on creative campaigns - getting to travel to amazing locations!
What is one no-fail styling trick you have learnt?
The 1-colour, many-tones move is always a winner! Choose several pieces in the same colour family. For example our Alexa Beige Knit Jumper Dress. It's a go-to for post-Kanye, Kim Kardashian.
Celebs wardrobe you would like to raid?
@bellahadid without a doubt.
What was the best fashion advice you got?
Change footwear in order to make every piece work, no matter the season.
We hope you loved getting to know our queen of styling. Stay tuned for more of the inside scoop from our #missyempire squad!
Missy Empire
XX