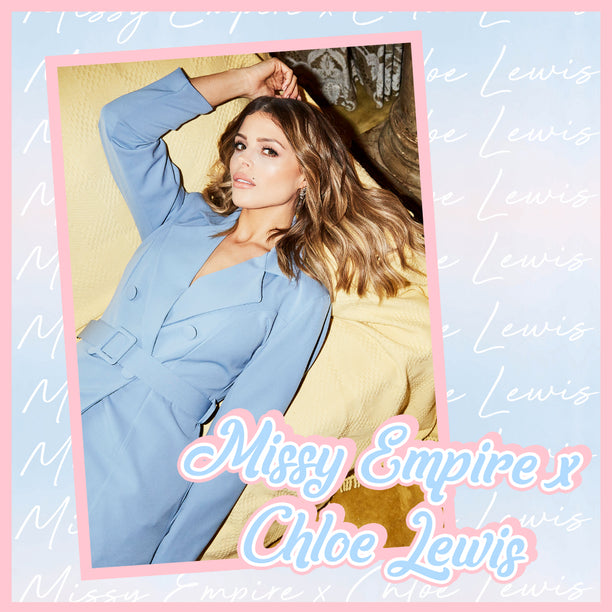 MISSY EMPIRE x CHLOE LEWIS
Girl it's time to up the sass and let your clothes do the talking because our babe Chloe Lewis is bringing us GIRL POWER vibes! Get your full look on lockdown in our fav blazer dresses, office vibin' suits and stripe saviours. We're bringing you a new season of tailored pieces, satin sass and uber feminine looks, so style up our mesh must haves, glam and don't give a damn dresses and gold detailing. Get bossin' it babe, because we're bringing the looks and your supplying the attitude!
LBD MUST HAVE
Get #trending in our Hena Black Belted Blazer Dress and you'll be bossin' it from the office to the club. Style it up your way with our Tess Gold Padlock Chain Belt and our Blair Black Perspex Wedge Mules. Let that little black dress do the talkin' honey. Swap the espresso with the cocktail babe because this blazer dress is for that work to party vibe!
EARN YOUR STRIPES
Spring's callin' so we think it's time to swap your beige and boring suits with some sassy spring colours. Style our Hope Mustard Stripe Belted Blazer with our Faith Mustard Stripe Paperbag Trousers. Earn your stripes and show them who's boss, because baby you are gold, solid gold. Finish the look with our Davina Hot Pink Ankle Strap High Heels.
PRETTY IN PINK
Pink to make those boys wink honeys. Dare to bare in our Willow Pink Sheer Lace Bodysuit and make that lingerie into your going out out outfit. Layer the look with our Ivy White Belted High Waist Trousers and you're onto a hella hot look babe.
SUITED IN SASS
Get those boss babe feels in our Anita Dusty Pink Belted Suit and get your look on lockdown with the full suit in one click. New season is round the corner and we are feelin' the tailor-made vibe. So get suited and sassy because it's happening. Style with our Jackie Nude Perspex Pointed Wedge Mules to finish the look and you're sorted!
GO PEACHY OR GO HOME
Chloe's coming through drippin' in coral and we are crushin' over our Carly Coral Tuxedo Mini Dress. So single ladies and boo'd up babes get your glam on because you are off on the town in our fav blazer dress. Style with our Gloria Gold Diamante Rectangle Earrings and our Rita Rose Gold Perspex Pointed Heels and you'll be lookin' LIT!
MISSY EMPIRE
XX