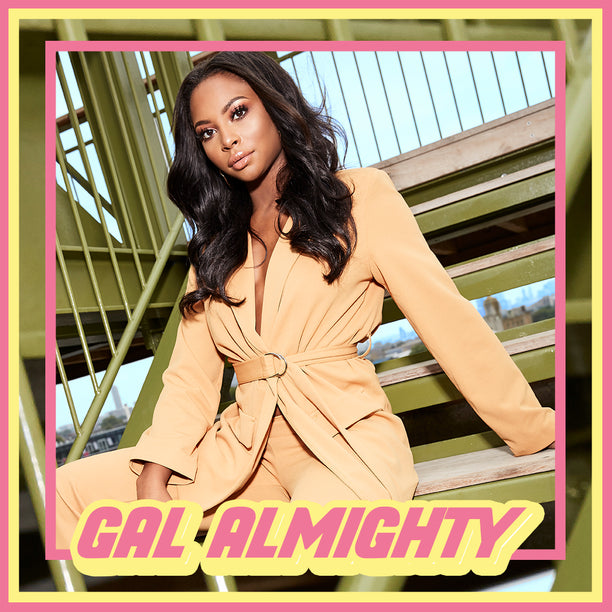 MISSY EMPIRE x SAMIRA MIGHTY
Introducing... Missy Empire x Samira Mighty. Bringing the sass, seduction and down right sisterhood goals, wrapped up in one package. From bold pieces to boujee numbers, Samira is turning the volume UP in disco-ball dresses and bringing us BOSS babe feels in our tailor-made co-ords. Upgrade your Insta-game and read on.
SUITED & BOOTED
It's time to show em' who's boss GAL! Samira is giving us all the feels in our Erica Mustard Longline Belted Blazer and matching Andrea Mustard High Waist Flare Trousers. Kick it in this power suit or freshen up your office goals in this dreamy two piece! Dive into pink and make all the boys wink in our Sophia Pink Double Breasted Blazer and Jessica Pink Cropped Trousers. Got a thing for stripes? We've got something for you - shop our Sachi Navy Pinstripe Blazer and Georgia Navy Pinstripe Cigarette Trousers. Be your own female boss girlllll!
GLITTER BAE
SPRINKLE GLITTER EVERYWHERE YOU GO. If you're going out out, then girl it's time to glam it up and get heads turning in our Lillia Silver Sequin Blazer Dress, styling it up with our Ashlee Red Patent Squared Heels. More of a printed kinda gal? Then shop our SASS-Y Geidra Snake Print Sequin Mini Dress or it's a dinner and drinks vibe then style our Cami Silver Sequin Halterneck Top with our Tabatha Black PU Leggings. 'Cos sequins are always in.
PRETTY IN PINK
Serve up a LOOK like Samira in the Ashia Pink Faux Suede One Shoulder Dress and Jaide Rose Gold Patent Block Heels. Into pink? Try our Sasha Hot Pink Slinky Halterneck Mini Bodycon Dress or shift a shade with our Bessie Lilac Satin Halterneck Mini Dress. Who can't say no to pink?!
CHECK-MATE
Clueless called, they want their checks back. Get #trending in our Rosaline Pink Checked Dress and accessorize your wardrobe with our Meesha Rose Gold Skinny Cat Eye Sunglasses. Get day to night vibin' in our Shirley Red Checked Mini Dress or get ready to hit the shops in our Lesley Rust Checked Paperbag Trousers and style with our Jillian White Knit Knot Detail Top. Girl, make him check up on it!
BOUJEE BABE
Day drinkin' just got LIT! Samira is coming in HOT in our Natalia Denim Pink Side Stripe Jeans and Andi Pink One Shoulder Jersey Crop Top. Get boozy brunchin' with your girls in our Chelsea Denim Checked Jeans and style with our Macey White Plunge Sleeveless Bodysuit. You can't go wrong with a new pair of jeans and a cute crop for that all day drinkin' vibe. Get boujee babe!
BOLD BEAUTY
Occasion wear just had a makeover... Live your best life in our Keri Orange Layered Bandeau Dress and get party ready! Day at the races or after party feels? Then shop our Samba White Polkadot Frill Jumpsuit. Got a gala or a EXTRA event coming up? Then glam it up in our Faheema Mocha Plunge Belted Maxi Dress. We've got fresh looks droppin' daily for every occasion!
SASS OVERLOAD
Lead the way and watch heads roll! Samira brought the attitude in our Gerry Neon Orange Shaggy Cardigan and turned the sass level UP in our Natasha Black PU Skinny Trousers and Magda Yellow Animal Print Bum Bag. Steal her style and create your own drams in our Roma Hot Pink Lace High Rise Bodysuit and Keesha Black PU Elasticated Cropped Trousers.
BADASS CHIC
It's time to unleash your ulter-ego gal! Pull up poppin' in our Britney Orange Animal Print Cycle Shorts and our Dorota Black Mesh Short Sleeve Crop Top. Add killer booties and layer up in our Gerry Black Shaggy Cardigan and our Marissa Black Patent Lace Up Chunky Boots. Get insta-worthy in our Emeline Orange Bandeau Cycle Short Co-ord Set or join the print gang in our Leandra Snake Print Cycle Short Co-ord Set. Update your hit list girl!
DENIM DUO
Denim just got a re-work! Get denim dreamin' in our Davina Denim Distressed Jacket and double it up with our Taryn Denim Frayed Shorts. Getting a blowdry with your gals or pamper day with your sis? Then shop our Sophie Blue Cropped Frayed Denim Jacket and style with our Helina Denim Paperbag Skirt. Bring that denim duo back and layer it up this season in our Tianna Denim Wash Skinny Flare Jeans and add our Verity Black Oversized Distressed Jacket.
MISSY EMPIRE
XX