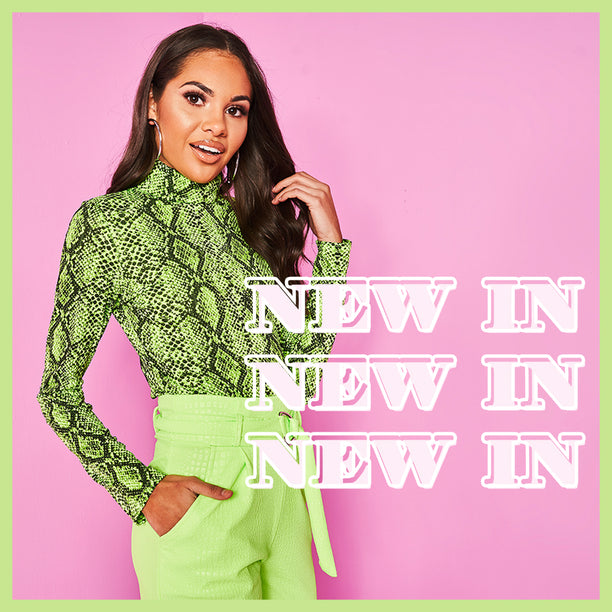 NEON, DENIM AND ALL THINGS NEW
Hey girl, it's time to update that drobe' and give your clothes a spring refresh with our new feels, new favs. Come through drippin' in our neon looks from mini dresses, trousers to shoes or steal the show in our printed newbies. We've got cardigans to keep you cosy, blazers to keep em' in check and bodysuits to feel your best bouji self. So jump in gal because new in is taking over and we are all for that #missyfit babe.
SHE'S A CHERUB
Get those off duty feels and add some cuteness to your basics. Start the look with our Emma Grey High Waist Cycle Shorts add our Brisa Black PU Bralet and layer with our must have Rosy Blue Cherub Print Mesh Crop Top – it's the piece that is gonna be changing your looks from basic to bouji baby. Finish this cool girl vibe with our Bailey Black Faux Leather Zip Bum Bag and some chunky trainers and you will be lookin' hella hot. From day to slay we will be uppin' your vibe.
NEON'S CALLIN'
Get those neon vibes and get your out out outfit lookin' off the chain. Get P-A-R-T-Y ready in our Serin Neon Green Slinky Ruched Bodycon Dress and style up this slinky number with our Davina Silver Ankle Strap High Heels and our Erin Silver Sequin Sphere Bag for that glam overload. Neon is droppin' on the daily, so style it your way and make your drobe' POP.
PINK TO MAKE EM' WINK
Get that bestselling vibe and feel HOT in hot pink in our Roma Hot Pink Lace High Rise Bodysuit and add our Coco Hot Pink Ribbed Knit Midi Skirt. If you're going to wear pink then make it the whole vibe honey. Finish the look with our Addie Neon Pink Longline Knit Cardigan and our Jackie Neon Pink Perspex Pointed Wedge Mules. You'll be poised in pink boo.
CHECK MATE
Start this #trending look with our Kate Grey Graphic Oversized T-Shirt it's a tee that will get those insta likes poppin'. So style with our Tessa Black Faux Leather Belted Tie Shorts and layer this outfit with our Harper Black Check Button Blazer to keep those boys in check. Finish with our Teegan Black Faux Suede Ruched Midi Boots and honey you are screamin' girl boss.
INTO THE WILD
Ooo girl, step into the jungle and be the ultimate wild child. Start the look in our Talia Red Zebra Print Wrap Front Maxi Dress. Then get that outfit reboot and style with our Chloe Black Snake Print Cowboy Boots for those western feels. Then double the print with our Sophia Red Leopard Print Small Belt Bum Bag. You'll be standing out from the crowd, so whatever you're doing this dress is a must girl.
MISSY EMPIRE
XX