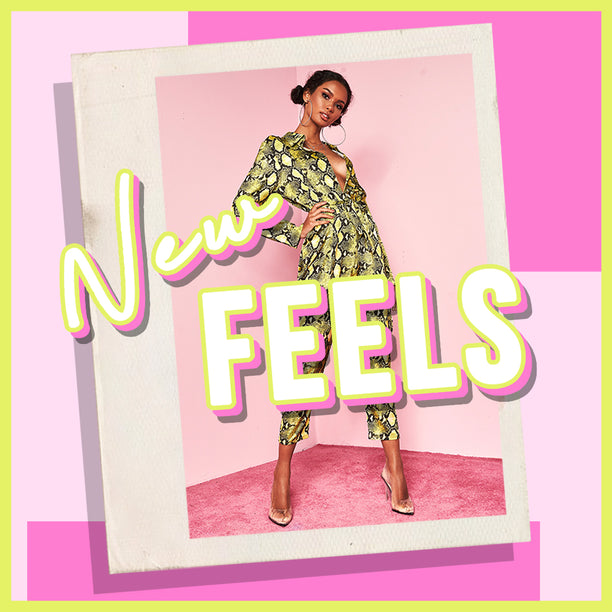 It's all about the new feels honey. Start the year off in style in our neon brights, sassy snake prints and co-ord killers. Level up in our off duty joggers and puffa coats. Bring the attitude in our boujee bodysuits and our bold accessories. And slay all day in our printed jumpsuits and must have mini's. Whatever the vibe, we've got all the feels comin' in hot babe. GET IT, GET IT!
VICKI CO-ORD SET
It's a must. Get that best-selling outfit and make January cosy all day, every day in our Vicki Rust Knit Jumper Midi Co-ord Set. We have been crushin' on this set and it's a statement buy from season to season babe. Make it cas' or dress it up and do your thang boo!
Mix things up with our Jess Snake Print Neon Bum Bag and bring the glam with our Valentia Rose Gold Ankle Strap Heels. This look screams day to slay and you'll be livin' that not so basic life.
LIME DRESS/BLACK JACKET
Issa vibe. Level up your look and make that glam dress go further. Start the look with our Debbie White Oversized T-Shirt, layer over our Vennie Lime Green Cowl Lace Up Back Midi Dress. Then belt up in our Yen Black Western Style Double Buckle Waist Belt.
Finish the layers with our Sydney Black Faux Leather Biker Jacket and our Sharri Black Faux Leather Lace Up Boots. You'll be bringing us that good girl, gone bad kinda vibe. We're all for levelling up, so make the most out of your clothes and wear it in more ways than one.
SNAKE PRINT CO-ORD
Get those snakey snakey snakey feels in our killer co-ord and start your look with our Page Snake Print Denim Skirt. Add our trending Tammi Neon Green Roll Neck Top and finish with our Orpha Snake Print Cropped Denim Jacket and girl you'll be bossin' them new in feels.
Accessorise the look with our Zetta Neon Yellow Reflective Bum Bag getting that neon fever poppin'. Then finish with Lisa White Platform Lace Up Trainers and get off duty ready!
LOTTIE JEANS/ORANGE JUMPER
Get daytime vibin' and update your denim drobe' with our Lottie Denim Dynamic Slogan Jeans they are this seasons EVERYTHING. Layer the look with our Tamarah Neon Orange Roll Neck Oversized Knit Jumper and you'll be feelin' cosy AF.
Complete the look with our Rita Rose Gold Perspex Pointed Heels and you'll be struttin' your way to the weekend honey. So if your brunchin' with your babes or day to night drinkin', this look is getting you through the January blues.
JADE PINK TROUSERS/ GABBY SNAKE SHIRT
Girrrrl, you just got fancy. Paint it pink in our Jade Pink Snake Print Belted Skinny Trousers and keep the snake print comin' in hot in our Gabby Neon Pink Snake Print Blouse and walk our way bae. Because go matchy matchy or go home honey!
Finish the look with our Sasha Silver Pink Strap Heels and our Caroline Pink Tint Half Frame Retro Sunglasses because pink is the shade that shouts sass. So own it girl and don't apologise for bringing the attitude.
MISSY EMPIRE
XX