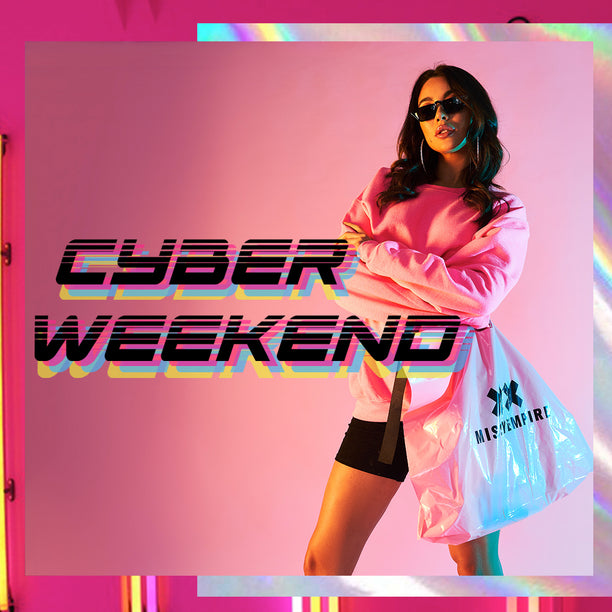 OUR CYBER WEEKEND TOP PICKS
Listen up gals, it's discount time! We're running through our top Missy Empire picks for you to get your hands on this Black Friday and Cyber Weekend. So if you're after a treat for yo'self (you deserve it babe) or getting those Christmas presents (it's LIT!) – we've got you!
VICKI CO-ORD SET
It's the co-ord everyone's been talking about and our bloggers' favourite set! With those chilly days and dark evenings coming in (not so) hot, our Vicki Rust Knit Jumper Midi Co-ord Set is the perfect all-rounder, girl. Black Friday has got your back, taking this set from £42.00 now £31.50 – so get it before it's gone! Style with our Kim Beige Mesh Panel Trainers and our Gia Black Faux Leather Studded Backpack for that casual look. Get cosy, cutie.
TAMMI NEON ROLL NECK TOPS
The neon comeback that got us hooked and we've been crushin' over our best seller Tammi Neon Green Roll Neck Top. Style up this complete steal which was £9.00 now £6.30, with our Keesha Black PU Elasticated Cropped Trousers and Kaydence Oversized Black Teddy Faux Fur Coat for a cosy AF look this Winter. This piece is guaranteed to turn any outfit from 0 to 100, real quick.
DANA SNAKE PRINT PLEATED SKIRT
Snakey, snakey, snakey! Got a thing for animal print? Then our Dana Snake Print Pleated Skirt is callin' you this cyber weekend – was £28.00 now £19.60 it's sure to add some sass to your look this season. Style with our Black Ribbed Roll Neck Top, Black Cream Collar Faux Fur Aviator Jacket and our Benita Black Snake Print Boots to make those brunches hella LIT and freshen up that day time 'drobe!
ROMA BODYSUIT
The bodysuit that's gonna get you looking 0-800-HOT! Our Roma Wine Lace High Rise Bodysuit that comes in extra AF colours is our favourite cyber weekend product – was £23.00 now  £16.10. It's gonna take you to the next level babe. So style with our Coco Black Ribbed Knit Midi Skirt and Black Square Strap Heels and get glam girl, coz you're hitting the town!
HARPER JUMPERS
Need to update that basic jumper you wear all winter? Girl we've got you! Shop our Harper Candy Pink Knit Roll Neck Jumper at a mega price – was £18.00 now £12.60. Pair with our Selena Denim Distressed Self Love Mom Jeans and Giovanna White Chunky Trainers to finish the look and girl, you'll want it in more than one colour – it's a staple!
LEVI KISSING FACES T-SHIRT
Issa vibe. A bestseller's vibe. OurLevi White Kissing Faces Graphic T-Shirt is giving us an artsy style and the price will 100% win you over – it was £14.00 now £9.80 so girl, get our must have graphic tee and steal the show honey. Style with our Snake Print Denim Skirt and Snake Print Cropped Denim Jacket and get that killer co-ord lookin' FIRE with our fave tee!
KAYDENCE TEDDY FAUX FUR COAT
It's the coat that's been getting our Insta honeys all day vibin'! Layer up your looks with our Kaydence Oversized Brown Teddy Faux Fur Coat which was £86.00 now £60.20 – it's a purchase you'll be wearing all winter. Style this staple with our Julie Beige Jumper Loungewear Set and Kim Beige Mesh Panel Trainers. Chill out babe, coz were supplying the deals – all you need to do is the clicking!
MAY RECORDS HOODY
Get those off duty feels and get that chiller mode ON in our May White Records Slogan Oversized Hoodie – it was £22.00 now £15.40. Style up with our Rebecca Grey Casual Joggers and Mel Black Hightop Platform Trainers and get that Netflix and chill look on lockdown girl. This will become your hangover favourite, so girl get it, get it, get it!
JODIE LEOPARD TRAINERS
Fresh kicks for a fresh gal! Our Jodie White Leopard Print Faux Leather Chunky Trainers will step UP your everyday flex – was £21.00 now £14.70. Style with our Camel Cropped Jumper Loungewear Set and our Maxine Chocolate Teddy Borg Longline Coat to get your gram game on 100. We crushin'!
MISSY EMPIRE
XX