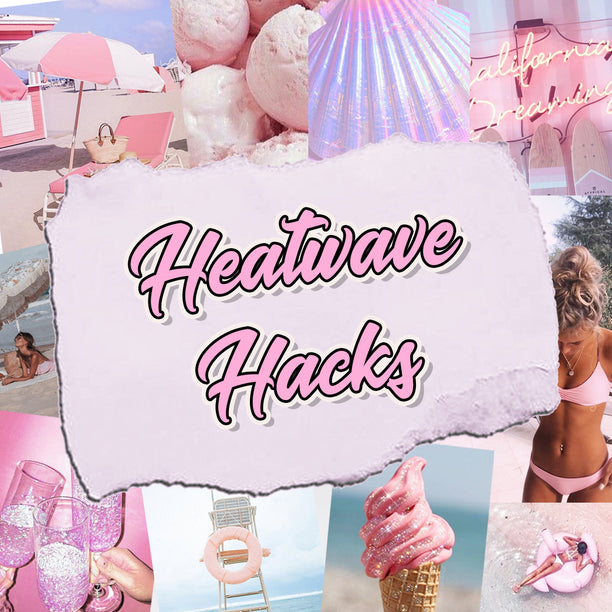 The heatwave has finally hit and we are livin' for these Summer days. But we live in England and let's be real we always seem to be totally unequipped when the heat finally arrives. But don't you worry honeys, we have put together our heatwave hacks that you need to try this Summer. We want you lookin' and feelin' your best all Summer long (however long it lasts) so take note babes...
STEP 1.
Tie your hair up gal, there is nothing worse than doing your hair in this heat and let's be real you don't want to be lookin' like Monica from Friends.
STEP 2.
Stay hydrated and we mean with water boo, not sangria (maybe a little sangria too). It's also amazing for your skin so keep it up and you'll notice the results.
STEP 3.
Opt for a BB cream instead of a heavy foundation, in the hot weather you don't wanna be feelin' caked, so keep it natural and dewey for those hella hot days.
STEP 4.
Lay it on factor 50 thick. We don't mean your flirting game, layer on that suncream hun. Yes it's England but trust us there's nothing worse than being burnt and lookin' like a lobster.
STEP 5.
A hand held fan will become your best friend, so don't forget it – take it everywhere you go, it won't let you down.
STEP 6.
Invest in some miniatures, these aren't just a holiday essential. They are the perfect handbag must haves – so if your day drinking turns into a full girl's night out, you'll be prepared.
STEP 7.
Combat those fly aways and buy yourself a toothbrush. Yes hun a toothbrush, it's the perfect tool for when your hair just isn't going the way you want it too.
STEP 8.
Face sprays and setting sprays are here for you this summer, get your make up poppin' all day and keep your skin feelin' refresh through the heat.
Missy Empire
xx