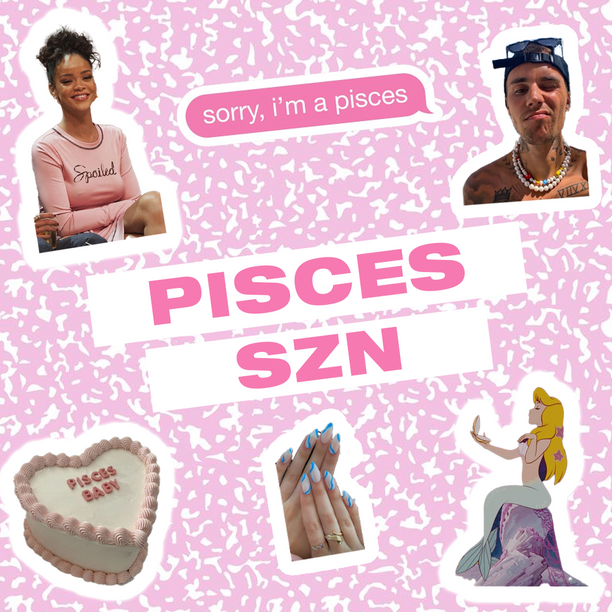 PISCES SEASON STYLE GUIDE
Hey Pisces, we see you! 
This month is all about YOU, and we've got you covered to be the most stylish gal around for the entire month. 
Keep scrolling for Missy's Pisces Season Style Guide. 
Pisces Birth Dates
February 19th to March 20th.
Pisces Celebrity Style Icons
You share the style SZN with some ICONIC women, babe. Rihanna, Lily Collins and Millie Bobby Brown are our Pisces Missy muses.
Your Style Traits
Imaginative and Fun-Loving - Badass Babe
You're a natural born creative, and the one everyone looks to when they're in need of some inspo. Whether it's music recommendations, fashion advice or cocktail bar ideas, you've got it all Pisces babe.
Why not add some bold and badass fits to your wardrobe? Pisces gals have no time for blending in, so we've got you covered with cut-out co-ords and head turning jumpsuits. 
Get the look with the Kennedy Extreme Cut Out Lace Crop Top, Abby Metallic Cropped Corset and Effy Denim Print Micro Mini Skirt. 
Romantic and Laidback - Loungewear Lover
Sundays are all about CHILLING and recuperating for the week ahead - where else would a Pisces wanna be? 
You're the girl everyone goes to when they need a shoulder to cry on, cause you know exactly how to make them feel better. 
Why not organise a girls night in some comfy loungewear? We've got you covered to be snug and boujee anytime, babe.
Get the look with the Kaya Oatmeal Button Up Cardigan, Ines Pink Oversized Heart Print Hoodie and Azealia Green Satin Bralette Set. 
Pisces Birthday Outfits
Whatever plans you've made for your birthday, we're gonna make sure you're ready to let everyone know you're THAT girl. 
Why not opt for a figure-hugging, slinky cut out dress to show off those curves and get heads turning in the club? Add a glitter handbag and a pair of strappy heels to finish off the look. If that's not your vibe, try a cute satin corset and micro mini skirt. Grab your favourite pair of knee high boots, croc print bag and statement sunglasses to really get that stand out look. 
Get the look with the Lara Black Slinky Badeau Cut Out Dress, Bella Rust Satin Draped Corset and Cally Pink Metallic Ruched Shoulder Dress.
Now go celebrate a month of you, girl! Don't forget to tag us in your outfit pics, we can't wait to see you in them.
MISSY EMPIRE xoxo