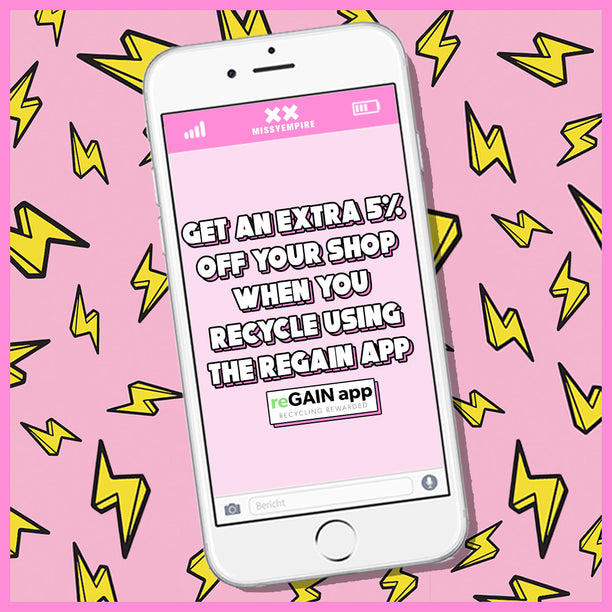 RECYCLE YOUR CLOTHES AND ACCESS DISCOUNTS WITH REGAIN
Girl, it's time to get involved and help improve fashion waste! We have teamed up with the ReGain App to give you the hottest discounts by boxing up your unwanted garms and recycling them. It's literally as easy as that honey, but we have put together a step by step to get you hun's earning your discounts asap. So listen up ladies and help be apart of the environmental change in fashion...
STEP 1
Download the ReGAIN app girl! It's the first step to getting started on the recycling journey and we are all for being apart of this recycling revolution in fashion, get on board babe.

STEP 2
It's time to try on your drobe' and finally get rid of those clothes you know your never gonna wear, no matter how many times you look at them. Box up your unwanted clothes honeys, if it's Missy Empire clothes or your other garms, have that wardrobe clear out and box it up babe. (Min of 10 items boo)
STEP 3
Use the free shipping label and drop off your box of unwanted garms at your closest drop off point. The Regain app will tell you your closest drop off point, so don't worry boo it's as easy as that!
STEP 4
Give it 30 mins gal then your discounts will be coming in HAWT! Like seriously, we're not kidding it's a simple way to earn discounts and help save those landfills full of unwanted and unloved clothes.
STEP 5
Use those discounts and start shopping your new drobe' at Missy Empire! We're in, are you?
Join the movement honey and help the fashion industry make a real difference!
Missy Empire
XX