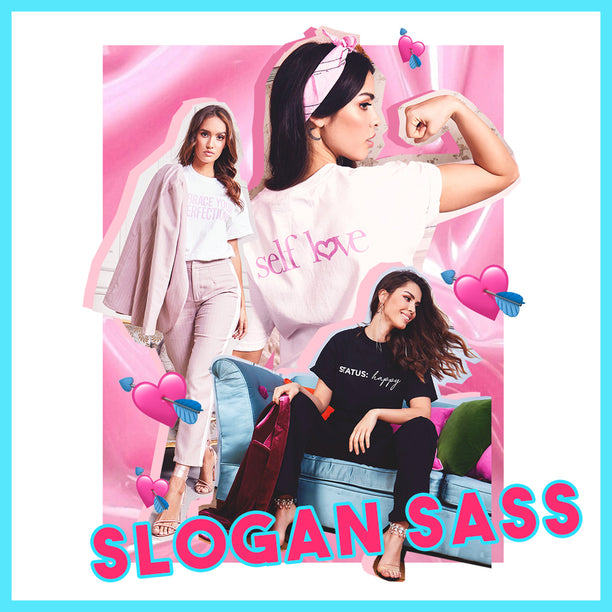 We're serving up serious style inspo to get you really feelin' yourself, for the month of self-love and forever after. Say it without saying anything at all with our slogan tees, made for extra special babes like you. We've got all your needs covered, yes really. Here's one for every mood, whether it's sass queen, resting bitch face or girl power goals. Thank us later.
If you're feelin' like a bad-ass, opt for our Tiffany F*ck It I'm Female option or the Ana Girls Doing Whatever The F*ck They Want In 2018 number, if you don't want anyone to mess with you. All about sisters supporting sisters? The Eleanor Real Queen's Fix Each Other's Crowns tee will get you besties for life and a crown that's poppin' like that highlight, gurl.
LOVE our classic versions of the Femme tee? Here's a brand new reworked one, girl power style. For the gal that only wears black, here's how to look like your resting bitch face isn't really a thing. Wear the Bella Status: Happy option and let the tee do all the talking. Embrace all your perfect imperfections in the Emma Slogan Tee and style it up in the suit co-ord of the season for extra sass points.
The Kira Self Love Tee has got your back. Literally. If you're ever feeling a little lost, know that self-love isn't too far away and you can do this sh*t. Has our Self-Love drop got you feelin' all the feels? Or you're just super appreciative of how amazing you are? Here's a tee to say just that. Keep things simple but super strong in the Ella Girls Support Girls tee, to remind all your sisters that they're not alone.
Spread good vibes in a subtle but sassy way in the Tina Heart Hands Jumper. For anyone who needs a reminder to grow through what they go through, babes, you need to link them up with this one. Whatever you're dealing with, know that you're a strong independent woman who can overcome anything. Put your love on top, baby girl.