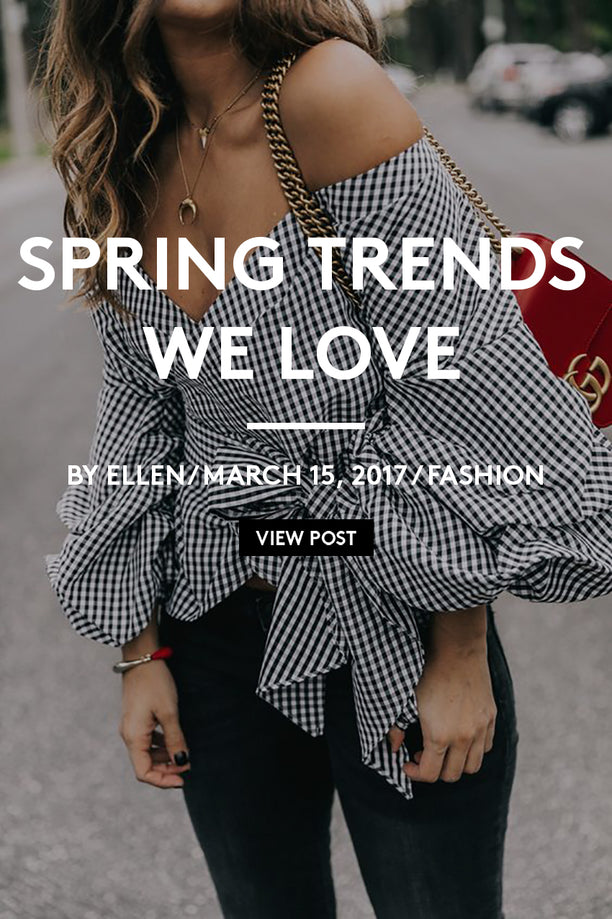 Gingham
Gingham is everywhere at the moment and we certainly aren't complaining. From trousers to bardot tops, we see it all over Pinterest and Instagram on a daily basis. It is a bloggers favourite look for Spring and we can't wait for the weather to heat up so we can show off our shoulders too! We always think of Gingham as being a girly print for pretty dresses, however it has been transformed in recent months paired with leather, band tees and grungy denim.
Get the off the shoulder gingham look with our Eunice and Kiah tops.
Red Overload
Red definitely appears to be the colour of the season, and it will certainly make you stand out from the crowd. Styling red pieces together gives the sassiest look, however statement red pieces look great with black and denim. We fell in love with this bangin' outfit on Kendall and we can't wait to see more bloggers and influencers rocking the trend. We need a bit of colour blocking now Spring is just around the corner, and why not try it with other colours too? Yellow is also huge this season and we're yet to see an all yellow look!
Get the statement look with our Shay Red coat.
Denim Update
It's easy to forget about keeping your denim updated, however it is a key part of your wardrobe and can be the base for any great outfit. From ripped mom jeans to simple skinny jeans, denim never goes out of fashion and it's the easiest thing to throw on if you're struggling for outfit ideas. Blue denim has made a huge comeback, and if you're daring the double denim look is always on point! But if you're not a jeans kind of gal, why not go for a denim dress or skirt?
Shop our denim pieces here.
Feminist Tees
We've always been a lover of our slogan tees, and the new slogan trend seems to be all about feminism. Us girls at Missy Empire are all about supporting the females of the world and you can wear yours loud and proud to show that you are too! Forget about the classic white tee, the slogan tee is what you need in your wardrobe.
Shop our slogan items here.
The Missy Gang xo