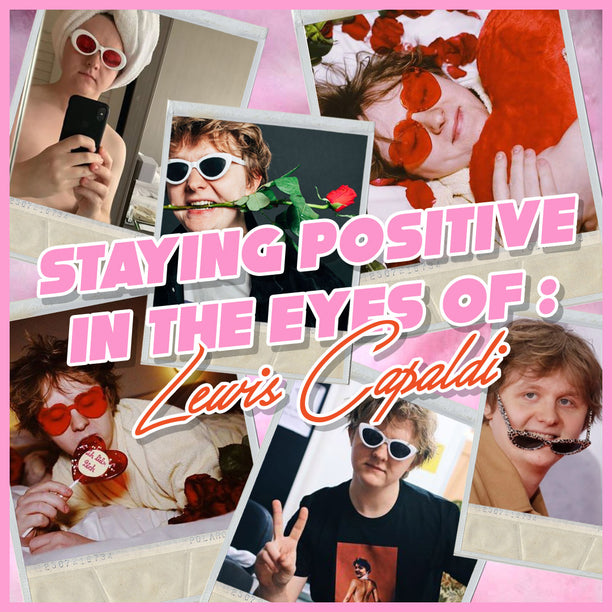 STAYING POSITIVE IN THE EYES OF; LEWIS CAPALDI
Let's be real, Lewis Capaldi has had us all in stitches recently, taking over social media and we've become kinda obsessed with him. He is legit givin' us life and showing us that we don't need to take life so seriously all of them and you can still succeed! So take the steps to stay positive honey...
GIF 1
Celebrate every victory, no matter how big or small. Life's always throwing punches, so if you've reached a goal or smashed that interview – whatever your victory today, celebrate it and why not put on some red sunnies and air grab. We're here for this!!
GIF 2
Never miss a self care Sunday. The secret to staying poisitve is looking after yourself and putting you first. So get that bubble bath flowing, the face mask on and pamer yo'self. You derserve it babe and make this part of your mantra – self care Sundays really are a thing!
GIF 3
Don't underestimate the power of girls night. Get glammed up and start feeling yo'self because you are going out girl. We're all for nights in, but right now you need to let your hair down, push away those stresses and enjoy time with your gals.
GIF 4
Learn something new and step out of your comfort zone. It doesn't have to be something completely crazy like sky diving, we're talking about taking up a dance class or learning how to play an instrument – if there's something you've always wanted to try, then now is the time. You never know where it could lead you!
GIF 5
This month you need to spread peace and love. We are all for sharing love and positive vibes all day everyday. So spread the love to all your family and friends, send that 'I love you' text and be present in the people you love lives – free hugs for everyone!
GIF 6
So you've got a free house, yanno what you need to do? Get on your music playlist, play the sassiest song and play it loud. Then dance like nobody is watching gal, trust us dncing really is a way of staying positive. Let it out and go wild girl!
GIF 7
If going out just isn't what you wanna do, don't worry gal – don't be afraid to say no to plans to stay in and hibernate by yourself. A binge watch on netflix and some snacks is callin' your name – it's time to chill and lay all day honey.
MISSY EMPIRE
XX