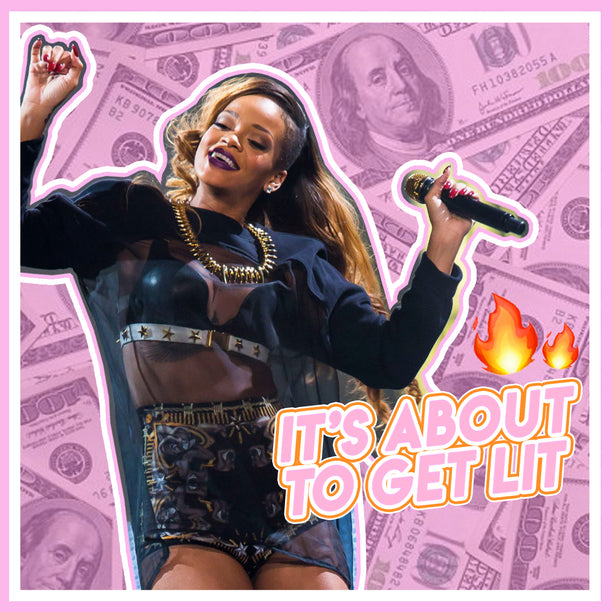 THE 10 STAGES OF PAYDAY FRIDAY AS TOLD BY RIHANNA
It's everyone's fave day of the month, payday! So get those Friday feels with the original bad gal, RiRi, and meme your way to 5pm gals. B***h better have my money – cos we're going OUT OUT tonight.
STAGE 1
It's only 11am you've still got 6 hours left at work and you're bored AF waiting for 5pm giving serious eye rolls. You're like get me to fourfiveseconds 'til home time please!
STAGE 2
The group chat is getting LIT, your girls are getting pumped, everyone's sending outfit options, talking pre-drinks and what boys are out tonight... It's nearly time to say cya later work and hello girl's night!
STAGE 3
You know what time it is! It's PARTY time, it's 5pm and its official – work mode is OFF, party mode is ON! Your girls are outside ready to pick you up, so shut up and drive honey let's get home and get ready!
STAGE 4
Time to get your glam on and get yo'self looking hotter than ever! Get that lippy on, the highlighter poppin' and that hair lookin' flawless babe. We've not for cockiness but we're gonna look mega tonight!
STAGE 5
Yaaaas. It's pre-drink time honey and everyone knows the rule you gotta leave the house tipsy and back up yo' vibe coz we getting litty. Pour it up, pour it up, we're going big tonight!
STAGE 6
You're walking in the club with your girls looking hella fine. You're feelin' like a queen, those pre drinks are kickin' in and you're ready to dutty wine the night away. Go on and take a bow babe, you're looking fly!
STAGE 7
The dance moves are out and you're feeling FIRE! You're droppin' on that floor, shaking that booty and snapchatting it all – you're like PLEASE DON'T STOP THE MUSIC coz this club is poppin'!
STAGE 8
It's 4am, the clubs closing, your gals just called you a taxi and you're getting in it like wait... really? The nights over? Still hella drunk and the sass levels are on 100. You want to stay but your friends are shouting to the taxi: shut up and drive...
STAGE 9
It's the morning (aka evening) after the night before and you're hungover AF, feelin' sorry for yourself eating maccies and sitting in the bath pon de replayin' the dance moves from last night!
STAGE 10
OH SNAP! You've just checked your bank account and it looks like you thought you was bad gal RiRi for the night, coz that bank account is looking like you need another pay day honey! WHAT NOW?!
MISSY EMPIRE
XX