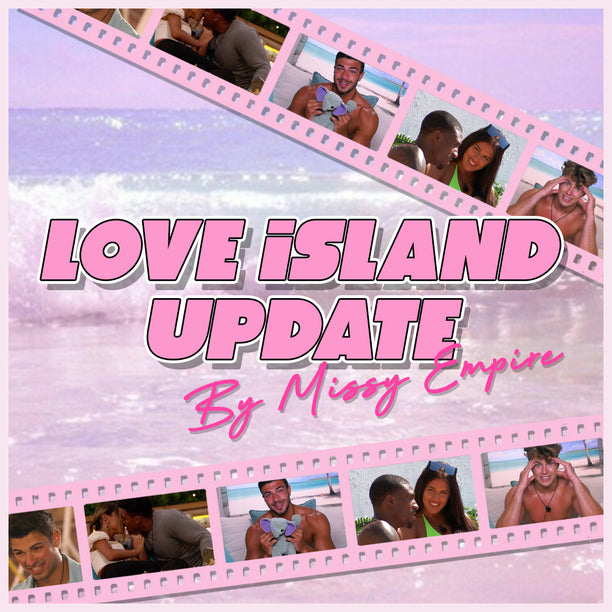 THE LATEST LOVE ISLAND DRAMA AND GOSSIP
Let's be real everyone is hooked on Love Island. Even your boyfriend pretends he doesn't like it but if you watch it without him he's fuming. We need to discuss EVERYTHANG that went down last night and over the last few episodes because since casa amor the love island drama has taken new heights. So let's talk all things love island and the latest dramaz in the villa...
TOMMY STAYS LOYAL
So just recently Lucie decided to tell Tommy that she would be open to going there with him and boy, he did good. Tommy respected Lucie and Molly Mae at the same time and we are feelin' very proud. To then sleeping with ellie belly while Molly hasn't been in the villa and he has officially become our favourite boy of the villa. Tears were streaming last night when Tommy and Molly Mae were reunited. Are we looking at the potential winners?! We think so.
MICHAEL STRAYS AND DOESN'T HOLD BACK
All our hope in men faded when Michael began to stray and he's just said bye bye boo to 50k because we're team amber on this one. We all love Michael and his loyal ways but turning his head and kissing Joanna got us wondering if he really liked Amber? Or did that whipped comment really hit a nerve?. Either way we don't think this is gonna go down well with Amber, that recoupling was tense and the look on Anna's face – well, it's gonna go OFF tonight.
CURTIS'S HEAD IS TURNED AND THEN HE GETS PIED
Curtis seems to be re-thinking the whole Amy and him thing but that poor gal just admitted her love for him and can't wait to be reunited with her half boyfriend. But oh boy, that recoupling just got a whole lot more awkward, and tonight's episode looks like it's gonna get even more awks. Maybe you should have checked if Jordan was interested before admitting your heads turned... karma comes around Curtis. You we're a half boyfriend honey - remember that!
OVIE AND ANNA COULD BE THE NEXT KHLOE AND LAMAR
Anna and Ovie are giving us Khloe and Lamar vibes and are lookin' like the hottest couple in the villa. He's 6 ft 7 and a frickin basketball player, we wouldn't be turning him down either Anna. We are here for this couple, but also kinda feelin' for Jordan right now and wanna give him a big hug. But this couple is a complete vibe and we can't stop thinking about what cute babies they would make...
ANTON FINALLY GETS SOME ACTION
Anton has been unlucky in love so far in the villa and we have been rooting for him to find the girl of his dreams. But is this for real, does Belle really like him or is she doing this because he's single? And is Anton really feeling Belle or is he just enjoying the attention? Too early to say on this one, we will have to wait and see. But till then Anton you enjoy them back tickles honey, you deserve them!
MISSY EMPIRE
XX