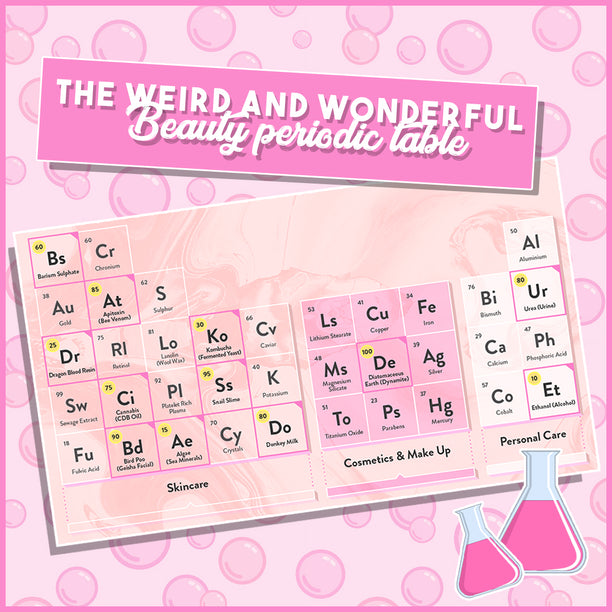 THE PERIODIC TABLE OF WEIRD AND WONDERFUL BEAUTY
Let face it, if you're a beauty junkie then you'll probably have tried some of the most boujee beauty products going, but have you ever thought about the ingredients lurking under the label?
The beauty team here at Missy Empire have investigated some of the most hyped ingredients in our favourite beauty products to bring you the Weird but Wonderful Periodic Table of Beauty to show exactly what we're slathering onto our skin on the 'reg.
The Weird-O-Meter Rankings
The Periodic Table of Beauty was developed using our totally unique ingredient scoring system:
The Beauty Weird-O-Meter
We've rated bizarre beauty ingredients based on a range of factors, which include:
Effectiveness

Benefits

Alternative uses

Hype

History
100% = Weird AF
1% = Whatevs, I've heard worse
12. Ethanol -
10% WEIRD
90% Wonderful
No, this isn't referring to the alcohol in your G&T, the strongest form of ethanol is present in most skincare, make-up, fragrance and hairsprays.
The main benefit of this strange ingredient is its ability to sanitise products and keep them clean. Of course, ethanol has been used widely for many years, so this is why this wonderful antibacterial ingredient sits firmly at the bottom of the list.
11. Algae
15% WEIRD
85% Wonderful
You might be more used to seeing this green slime coating the bottom of a fish tank, but it also has some great benefits when it comes to skincare. The miracle claims include hydration, detoxifying and helping to improve symptoms of skin conditions such as eczema.
Algae is a wonderfully natural and sustainable ingredient, farmed right on the beach in greenhouse-like tents, before being cleaned and added to serums, cleansers and moisturisers. Naturally, we've scored this at just 15% weird due to algae's sustainable credentials.
10. Dragon Blood Resin
25% WEIRD
75% Wonderful
Dragon blood resin isn't actually a reference from Game of Thrones, but rather the tree sap from the Dragon Tree.
Not as weird as we thought, so we've only scored this 25% weird due to its use in Wiccan healing rituals and 75% wonderful due to this blood red coloured resins' ability to moisturise and plump the skin.
9. Kombucha 30% WEIRD 70% Wonderful
Did you know that the latest foodie obsession is also great for your skin?
Celebrated as a gut-friendly drink, kombucha is also an antioxidant which has been found to help brighten and refresh the appearance of skin.
Simply apply the kombucha as a mask and leave for 30 mins. Wash off and pat dry for brighter, and fresher looking skin.
This weird ingredient also has wonderfully natural antibacterial properties for the skin because of its low pH.
8. Urea 55% WEIRD
45% Wonderful
Urea is mainly found in urine. It sounds weird, but you the wonderful benefits are surprising.
Did you know that human urine contains c.25 grams of urea per litre and is actually less toxic than table salt.
We're aren't suggesting that you bathe in urine, because luckily, a synthetic version of this weird ingredient has been developed to be used in a whole host of skincare products to soften and improve the appearance of dry, cracked skin.
Some of the surprising places you'll fine urea include moisturisers, foot scrubs and hand cream, not to mention its use as an eczema and psoriasis remedy.
The wonderful benefits of urea certainly outweigh the weird origins of this skin softener which is why we've scored urea just 55% on the Weird-O-Meter.
7. Barium Sulphate 60% WEIRD 40% Wonderful
This thickening agent is mainly used within cream-based cosmetics, including foundations and concealers.
Barium Sulphate helps to blur the appearance of dark circles and blemishes and when used within cream make-up, it has incredible staying power.
But, did you know this ingredient has a whole host of other uses? Radiologists performing X-Rays will often ask patients to swallow a liquid version of Barium Sulphate to allow them to get a clear picture of the digestive system, showing up as a bright white substance on the image.
This useful ingredient scored 60% on our Weird-O-Meter scale, due to the unexpected and surprising alternative uses.
6. CBD Oil 75% WEIRD 25% Wonderful
We all know that CBD oil is one of the the biggest trends right now, claiming to cure a long list of illnesses and ailments, but did you know it's now becoming more common as a skincare ingredient?
Used to filter out toxins such as pollution and UV rays alongside anti-inflammatory properties, CBD certainly has some wonderful claims.
This herbal ingredient can be found in acne treatments, anti-ageing creams and Rosacea (skin redness) treatments.
5. Donkey Milk 80% WEIRD 20% Wonderful
Yes, you read that correctly. Donkey Milk has been used for centuries as a natural skincare ingredient. Even Cleopatra herself would bathe in it for a younger and softer complexion.
The milk contains 4x more vitamin C when compared to cow's milk and it's said to be easier to digest. Its skin soothing properties have been known to help reduce the symptoms of eczema and itchy skin problems.
Keep an eye out for this weirdly natural ingredient in creamy moisturisers, soaps and other skincare products.
4. Apitoxin (Bee Venom) 85% WEIRD 15% Wonderful
If you've ever been stung by a bee, you might be thinking WTF when it comes to putting bee venom on your skin.
As scary as it sounds, the active ingredient (apitoxin) is completely painless when applied to the skin and has so many benefits.
Known as 'nature's answer to botox' but without the injections, apitoxin tricks your skin into thinking it has endured a few minor bee stings to give a plump and firmer complexion.
Bee venom (in this form) has also been found to help reduce the symptoms of arthritis and multiple sclerosis.
3. Bird Poo 90% WEIRD 10% Wonderful
Don't judge a book by its cover. Bird faeces (nightingales to be exact) were originally smeared onto the faces of Japanese Geishas over 1,200 years ago to refine and resurface their complexions.
You can now receive a bird poo facial from selected spas to reduce acne and hydrate your skin. Try everything at least once, right?
2. Snail Slime 95% WEIRD
5% Wonderful
You don't need to forage in your garden for this ingredient. Originated from spa's in Thailand, the snail slime facial is growing in popularity with access to face masks, moisturisers and facials across the globe.
Snail slime naturally contains hyaluronic acid and peptides which can hold 1000x their own weight in moisture.
The benefits of snail slime include stimulating collagen, hydration, reducing redness, lubricating joints and acting as an antioxidant.
1. Diatomaceous Earth (Dynamite) 100% WEIRD
You would be shocked at how often diatomaceous earth is used in various everyday items including, toothpaste, face masks, bath bombs, makeup, beer and obviously DYNAMITE!
The fossilised skeletons of tiny organisms called diatoms make up this explosive ingredient. For use in beauty products, the fossils are ground up to produce a silica-rich finely milled powder, used in many mineral based makeup products.
It's no surprise that this ingredient scored a huge 100% WEIRD on the Weird-O-Meter scale.
Think you know what you're putting on your skin every day?
Now that we've decoded the labels to reveal the little-known secrets behind the ingredients in your most used cosmetics will you think twice before reaching for your regular skin care and makeup regime?
MISSY EMPIRE
XX


This work is licensed under a Creative Commons Attribution-ShareAlike 4.0 International License