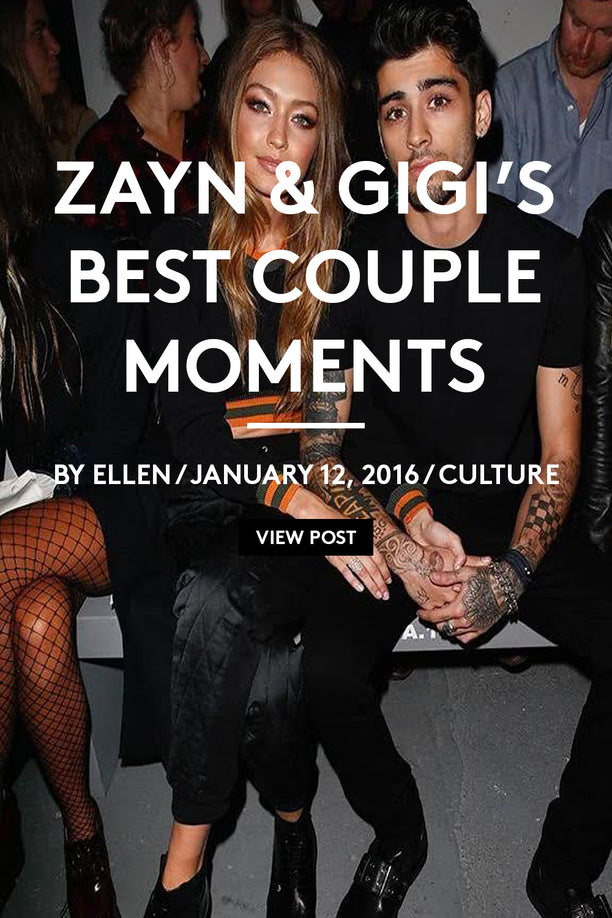 Zayn and Gigi's Best Couple Moments
Gigi and Zayn are the ultimate power couple. Not only are they both inspirational individuals who are established as being the top of their fields, but they get to live their exciting lives together. Who wouldn't want that?! So they might not get to spend as much time together as any normal couple would, however you know what they say... Absence makes the heart grow fonder and by the looks of things this is exactly what is happening. With it being Zayn's 24th birthday today we thought it was the perfect time to look back on their best couple moments (and wish we were Gigi).
Zayn's Pillow Talk Video
This was probably Zayn and Gigi's first public display of affection when their relationship was in the early stages, and they definitely didn't hold back. The music video for Zayn's first single after leaving One Direction featured himself and Gigi sharing more than one passionate kiss after only dating for two months and they couldn't seem to keep their hands off each other. It must be love!
Front Row Vibes at Versace
One of the best things about Zayn and Gigi's relationship is their complimenting outfits, and this is why they're the hottest couple around. This all black with a splash of yellow couples outfit for their front row appearance at Versace back in September was simple and understated, but they looked perfect together. They barely took their eyes off each other all night!
Metallic Met Gala
It isn't really surprising that another one of the super couples best moments was fashion related. This time they turned metallic for the Met Gala, and Zayn was Gigi's knight in shining Armour. This couple have proved more than once that they can go all out yet still look on point and sophisticated, and we haven't seen a fashion disaster from them yet. Metallics were a huge trend throughout 2016 and they truly knew how to rock this look together.
Romantic Weekend in Naples
The thought of a couple shoot is cringe-worthy and usually disastrous, however if you're a supermodel dating a musician it's clearly going to be the classiest couple shoot you've ever seen. And who better to shoot and publish it than Vogue. The picture above made us green with envy but love them a bit more at the same time, and now we're on the look out for our own Zayn Malik.
Below are a few of their best and cutest Instagram moments just to make us all feel a bit worse about ourselves.
A photo posted by Gigi Hadid (@gigihadid) on